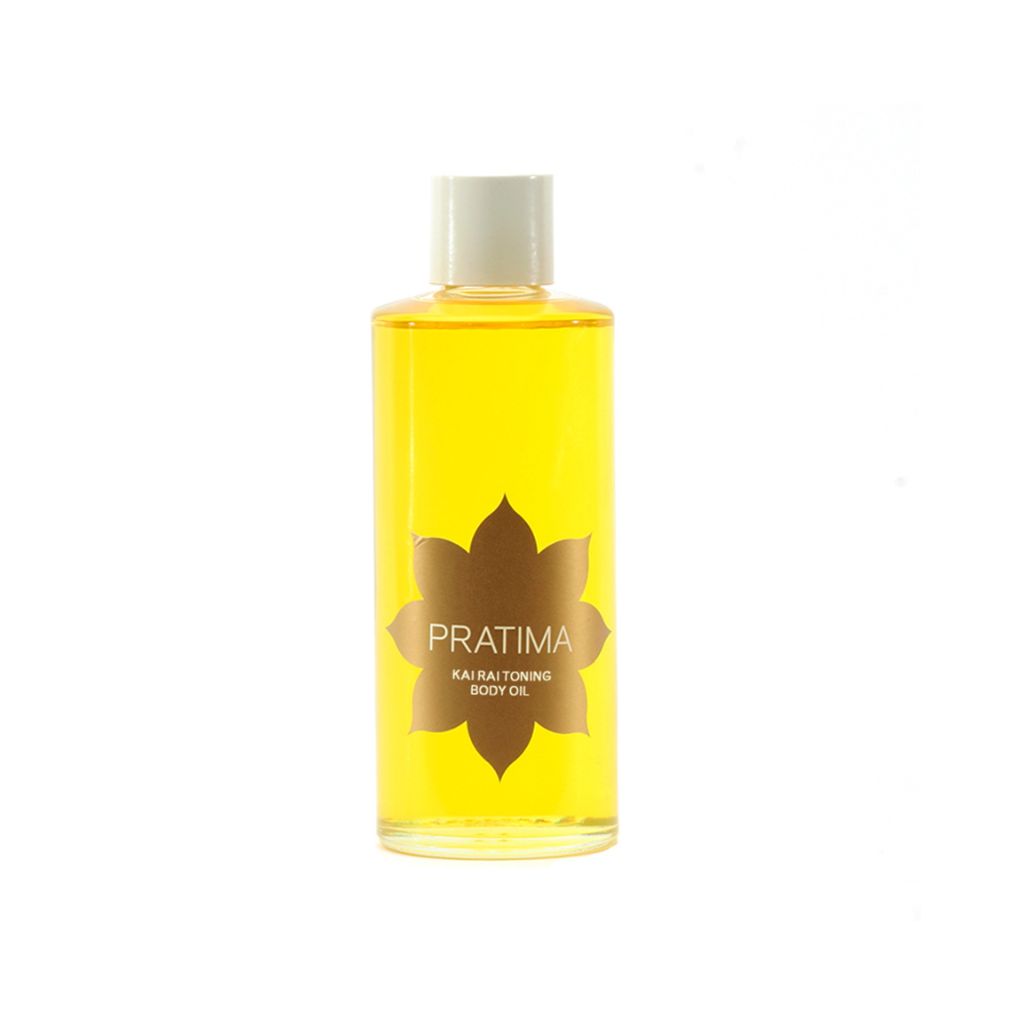 About
Ideal For
Ingredients
How to Use
This body-toning herbal oil stimulates and invigorates skin cells while improving circulation and detoxifying internal accumulation. A revitalizing blend of mustard oil, cypress, patchouli, and juniper, this therapeutic treatment offers firmer, smoother skin.
An ideal companion before and after exercising, massage onto the body with even, vigorous strokes. For best results, use in conjunction with our Organic Herbal Body Cleanser.
PRATIMA Herbal Body Oils are essential skincare for the wellness and radiance of the body's external tissue. With a molecular density is similar to the skin, these pure, herbal body oil blends penetrate through all 7 layers of the skin to provide vital nutrients that nourish, hydrate, and improve skin function. The nurturing, devotional act of applying oils to the body is a cherished, time-honored ritual in Ayurveda. It is no coincidence that sneha, the Sanskrit word for love, comes from snehana, the Ayurvedic ritual of oleation.

All skin types

Detoxification

Pre and post exercise
Mustard Seed Oil, Sesame Seed Oil, Cypress Oil, Ginger, Calamus, Ylang Ylang, Juniper, Patchouli.
Explore our complete ingredient glossary.
Massage vigorously on areas of concern twice daily.
Want to try it before you buy it?
, add two other products you wish to try for $7, and you'll receive 10% off your next purchase! *While you may purchase as many sample sets as you'd like, the 10% code is delivered only after your first sample purchase.
Pairs well with:
PRATIMA Tips
For best results, apply before and after exercising.
Care & Shelf Life
Store in a cool, dry place away from sunlight and moisture. Close the bottle tightly after each use. Since this formula contains no artificial preservatives, please use within 5-6 months.
Have a Question?
Contact our Ayurvedic Skincare Experts
Our team is happy to help with product recommendations, application tips, and more.
"The founder of this eponymous line began studying Ayurveda in India at 13. Now, at 83, she's still crafting her "nature-intelligent formulas" herself in her New York City lab."
"A friend and client turned me on to PRATIMA and I am obsessed with her skin-care products."
"You can find some divine skin care at PRATIMA, so drop down and get your Dosha on, girl."
Therapeutic Specialty Care
With nature-intelligent formulas derived from healing Ayurvedic herbs and botanicals, PRATIMA specialty care rituals target the source of imbalance for lasting, effective results you can see.
Personalized Ayurvedic Skincare Recommendations for your Dosha
Ayurveda describes the Doshas as natural forces of energy that help us classify our mind-body characteristics, including our skin. Learn more about your Dosha and receive your customized Ayurvedic skincare ritual.
TAKE THE DOSHA QUIZ
Feels like every evening I'm in spa
I love everything about this oil. The smell is amazing, the skin feels so soft and toned after using it. I like to use it in the evening after I shower and specially on the parts where i feel the skin needs more support. I use it throughout the year.
Good product
I just started using this product 5 days ago. I am starting to see differences, but I am sure very soon I will see even more results. The oil smells great and absorbs in quickly so it does not feel greasy etc. I use so many of Pratima's products that I have complete faith that this will show wondrous results like all her other products.
amazing scent
This oil has the most amazing scent and makes my skin feel loved.
LOVE MY SKIN
I use this every night after the shower. My skin feels like silk afterwards and I feel as though there is less crepiness all around. Smells peppery and soft at the same time.
perfect
love the smell of this oil - it feels great after a workout and shower! I've noticed a difference in my skin texture since using
Food for the Skin
Our Ayurvedic formulas are created exclusively with pure, natural, whole-food ingredients that your skin can easily recognize, without harmful synthetics and chemicals.
Handcrafted in small batches wth no artificial preservatives.