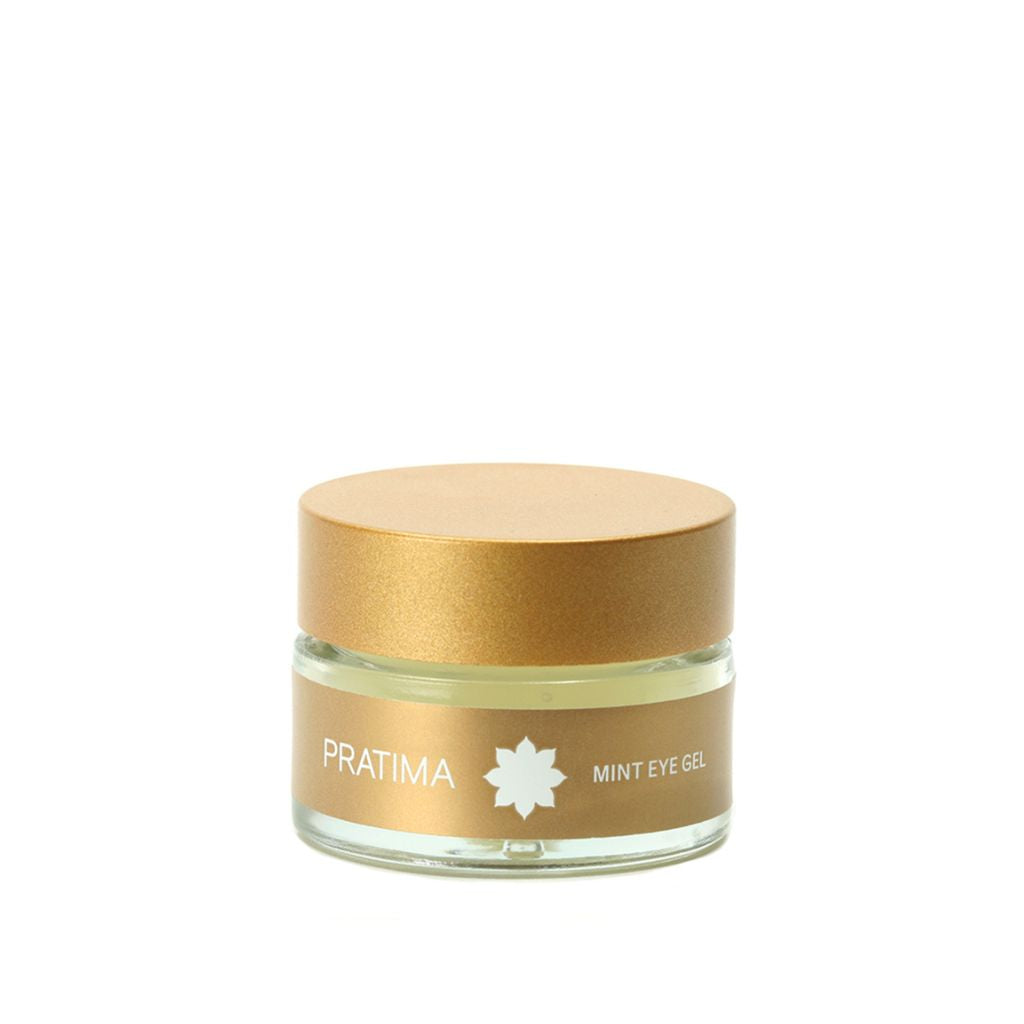 About
Ideal For
Ingredients
How to Use
A lightweight gel formula that targets under-eye puffiness, this cooling blend of mint, aloe, and triphala refreshes fatigued eyes while gently stimulating the skin to soothe swelling.

PRATIMA's natural eye creams utilize Ayurvedic herbs and botanicals to rejuvenate and protect the skin where the first signs of premature aging often appear first.

Kapha skin types

Puffiness and swelling
Aloe Vera, Mint, Triphala, Almond Oil, Manjistha, Bakuchi, Saffron, Frankincense, Lavender.
Explore our complete ingredient glossary.
Massage gently around the eyes morning and night. Apply with your ring finger for the gentlest touch around the eyes.
Want to try it before you buy it?
, add two other products you wish to try for $7, and you'll receive 10% off your next purchase! *While you may purchase as many sample sets as you'd like, the 10% code is delivered only after your first sample purchase.
Pairs well with:
PRATIMA Tips
For extra cooling sensation, store in refrigerator.
Care & Shelf Life
Store in a cool, dry place away from sunlight and moisture. Always use clean, dry hands when coming in contact with the formula. Close the jar tightly after each use. Since this formula contains no artificial preservatives, please use within 5-6 months.
Have a Question?
Contact our Ayurvedic Skincare Experts
Our team is happy to help with product recommendations, application tips, and more.
"A friend and client turned me on to PRATIMA and I am obsessed with her skin-care products."
"If you've done some research on experts in Ayurveda, you've likely come across Dr. Pratima Raichur. The New York-based Ayurvedic physician and naturopath has bottled over 40 years of experience into her line of 100 percent natural products for the skin, hair, and body."
"You can find some divine skin care at PRATIMA, so drop down and get your Dosha on, girl."
Restorative Eye Care
PRATIMA's natural eye creams utilize Ayurvedic herbs and botanicals to rejuvenate and protect the skin where the first signs of premature aging often appear first.
Personalized Ayurvedic Skincare Recommendations for your Dosha
Ayurveda describes the Doshas as natural forces of energy that help us classify our mind-body characteristics, including our skin. Learn more about your Dosha and receive your customized Ayurvedic skincare ritual.
TAKE THE DOSHA QUIZ
I love it
This is a great tool for summer - it cools and invigorates. My eyes look amazing. Ideal for use in the morning
Feels great!
Feels soothing under the eyes.
Refreshing eye gel
A cooling, lightweight eye gel. I love the way my eyes felt instantly after applying it. It made my undereye area firmer, cooler and more refreshed. It's light in texture, does not have an overpowering smell and a little goes a long way.
Nice, but not great for me. I think I need something more for under my eyes
Of the products I've tried, this is the only one I definitely would not order again. Nothing bad, just also nothing good for me personally. Feels OK but doesn't provide anything to me, that I've been able to tell/feel. Love other products very much so far! Thanks!
Finally found under eye care!
This eye gel is so lightweight, absorbs quickly and I can feel it tightening my skin as I lightly massage it in! Love!!
Food for the Skin
Our Ayurvedic formulas are created exclusively with pure, natural, whole-food ingredients that your skin can easily recognize, without harmful synthetics and chemicals.
Handcrafted in small batches wth no artificial preservatives.