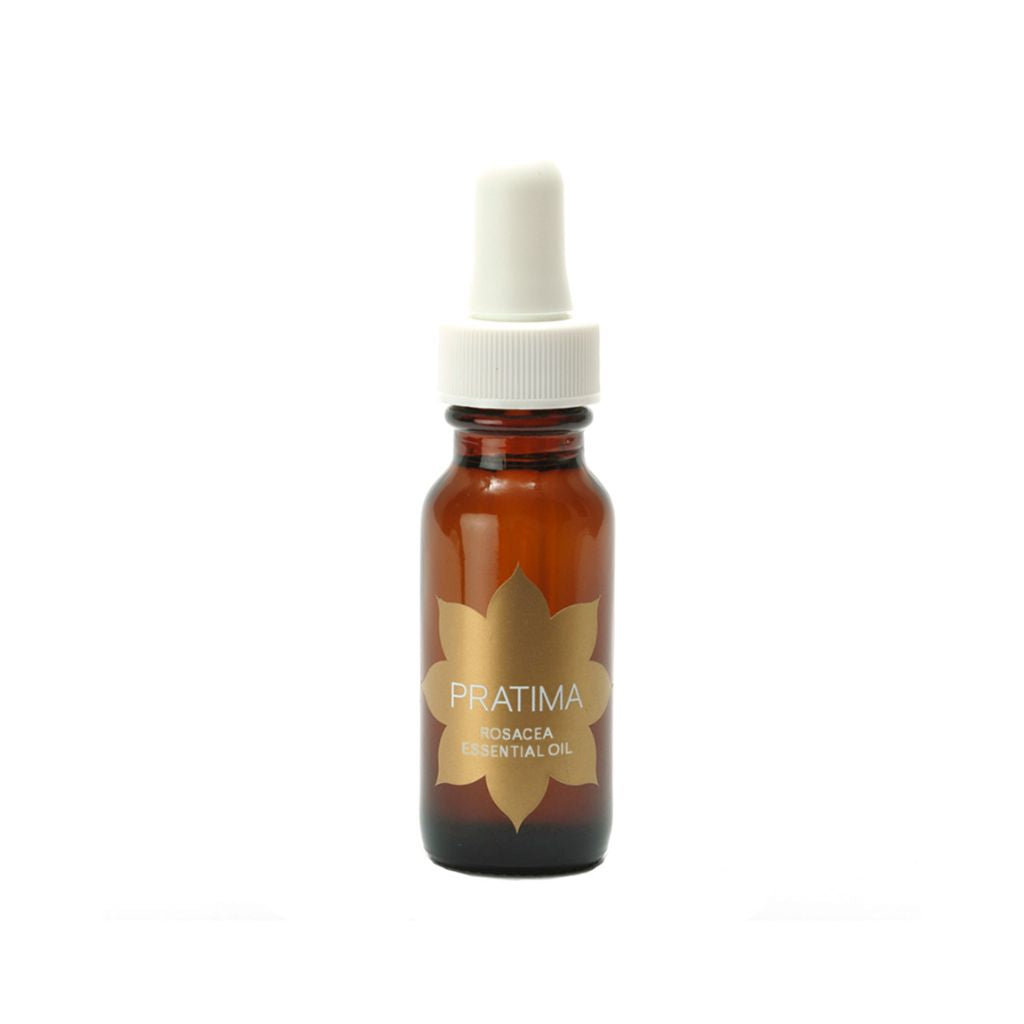 Rosacea Face Essential Oil
For rosacea & very sensitive skin
About
Ideal For
Ingredients
How to Use
An effective remedy for cooling and soothing inflamed skin, this all-natural rosacea treatment features gentle Ayurvedic herbs that pacify and settle aggravated complexions for clearer, softer skin.
A key ritual in our rosacea skincare collection, this soothing treatment effectively calms redness and skin irritation. For best results, follow with our Rosacea Therapy Lotion. For cases of acne rosacea, follow with our Sandalwood Soothing Lotion. To heal and alleviate persistent rosacea conditions and other chronic skincare imbalances, learn more about our Ayurvedic Consultations.
PRATIMA's organic Face Essential Oils are food for the skin and feature a unique molecular structure that penetrates to the deepest layer of facial tissue, addressing the root cause of skin imbalances for lasting results.
Pitta skin types with extra sensitivity

Rosacea-prone skin

Very sensitive complexions
Use twice daily after cleansing. Mix 3 drops of essential oil with 3 drops of water or our Ratrani Rose Replenishing Mist and massage on face and neck until fully absorbed.
Want to try it before you buy it?
, add two other products you wish to try for $7, and you'll receive 10% off your next purchase! *While you may purchase as many sample sets as you'd like, the 10% code is delivered only after your first sample purchase.
Pairs well with:
Rosacea Face Essential Oil
PRATIMA Tips
In the case of acne Rosacea, apply a few drops of our Sandalwood Soothing Lotion over the affected area, followed with our Rosacea Therapy Lotion.

To heal and alleviate persistent rosacea conditions and other chronic skincare imbalances, explore Ayurvedic Consultations with Dr. Pratima Raichur.
Care & Shelf Life
Store in a cool, dry place away from sunlight and moisture. Close the bottle tightly after each use. Since this formula contains no artificial preservatives, please use within 5-6 months.
Have a Question?
Contact our Ayurvedic Skincare Experts
Our team is happy to help with product recommendations, application tips, and more.
"PRATIMA products are organic and chemical-free, and have ingredients like sandalwood, lentils, coriander, and orange peel. Everything is gentle, and smells simultaneously earthy and delicious."
"These products are handmade by botanist, chemist, and Ayurvedic physician Dr. Pratima Raichur, who ensures that her certified-organic and cruelty-free formulations get the utmost care."
"If you've done some research on experts in Ayurveda, you've likely come across Dr. Pratima Raichur. The New York-based Ayurvedic physician and naturopath has bottled over 40 years of experience into her line of 100 percent natural products for the skin, hair, and body."
Therapeutic Specialty Care
With nature-intelligent formulas derived from healing Ayurvedic herbs and botanicals, PRATIMA specialty care rituals target the source of imbalance for lasting, effective results you can see.
Personalized Ayurvedic Skincare Recommendations for your Dosha
Ayurveda describes the Doshas as natural forces of energy that help us classify our mind-body characteristics, including our skin. Learn more about your Dosha and receive your customized Ayurvedic skincare ritual.
TAKE THE DOSHA QUIZ
Great for Summer
I use the Rosacea Face Essential Oil during the warmer months. Helps reduce redness and sensitivity.
Wonderful!
Really wonderful! I can't believe it! An oil that finally doesn't cause breakouts but maintains skin hydration. Everything on my face seems better with this layered on and I do believe it has appears evened my tone as well. I'm definitely wearing less makeup since I started this. It's a win!
Impact
I've been having some issues with Rosacea over the last few months so I ordered the Rosacea Therapy essential oil to give it a try. And It absolutely works. I love it and my skin coloring has completely evened out. I frankly can't believe it! Thank you so much!
Perfect for sensitive skin
My skin is sensitive and tends to get red easily. This essential oil calms my skin and nourishes it so it doesn't get red. I love the ingredients and I can feel the benefit on my skin when I apply it. I love Pratima Skincare so much.
Holy Grail :)
Pratima's Rosacea Oil is possibly the only thing I can use on my tret sensitized, rosacea skin. This oil keeps my skin hydrated, calms the redness and the papules, minimizes my pores and just keeps my skin looking healthy! I've been using this product, along with many of Pratima's other products for over 12 years now and have not felt more confident in my own skin. This is the best (+gentlest) oil for anyone with a damaged skin barrier.
Food for the Skin
Our Ayurvedic formulas are created exclusively with pure, natural, whole-food ingredients that your skin can easily recognize, without harmful synthetics and chemicals.
Handcrafted in small batches wth no artificial preservatives.