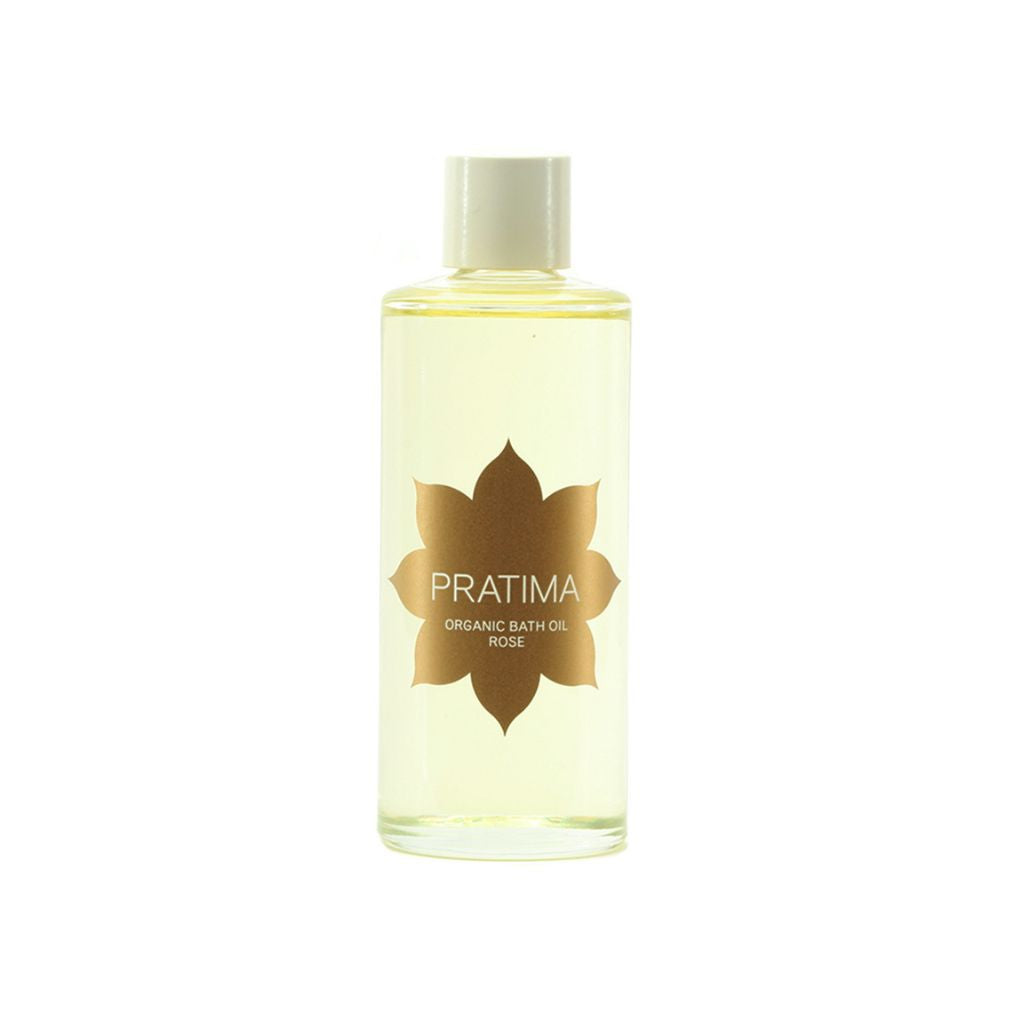 About
Ideal For
Ingredients
How to Use
This calming, moisturizing bath oil nourishes the body and soothes the mind with healing rose essential oils. Promote natural cell regeneration and reduce inflammation while boosting the heart's energy and promoting a positive, warm state of mind. Also suitable as a natural massage oil.
PRATIMA's collection of custom-blended aromatherapy features unique properties that balance the nervous system while bringing a sense of peace and tranquility to the mind. Handcrafted from pure herbs, roots, and flowers, our formulas are 100% free of synthetic scents.
All skin types

Aromatherapy bath

Cooling heat in the mind and body
Add a few drops to warm bath water. Inhale…
Want to try it before you buy it?
, add two other products you wish to try for $7, and you'll receive 10% off your next purchase! *While you may purchase as many sample sets as you'd like, the 10% code is delivered only after your first sample purchase.
Pairs well with:
PRATIMA Tips
This delightful bath oil can also be used for body massage.

Naturally cooling, rose helps soothe excess heat in the mind and body for a therapeutic stress relief ritual.
Care & Shelf Life
Store in a cool, dry place away from sunlight and moisture. Close the bottle tightly after each use. Since this formula contains no artificial preservatives, please use within 5-6 months.
Have a Question?
Contact our Ayurvedic Skincare Experts
Our team is happy to help with product recommendations, application tips, and more.
"PRATIMA products are organic and chemical-free, and have ingredients like sandalwood, lentils, coriander, and orange peel. Everything is gentle, and smells simultaneously earthy and delicious."
"A friend and client turned me on to PRATIMA and I am obsessed with her skin-care products."
"The founder of this eponymous line began studying Ayurveda in India at 13. Now, at 83, she's still crafting her "nature-intelligent formulas" herself in her New York City lab."
Luxurious Herbal Body Oils
PRATIMA Herbal Body Oils are essential skincare for the wellness and radiance of the body's external tissue. With a molecular density is similar to the skin, these pure, herbal body oil blends penetrate through all 7 layers of the skin to provide vital nutrients that nourish, hydrate, and improve skin function. The nurturing, devotional act of applying pure, herbal oils to the body is a cherished, time-honored ritual in Ayurveda. It is no coincidence that sneha, the Sanskrit word for love, comes from snehana, the Ayurvedic ritual of oleation.
Personalized Ayurvedic Skincare Recommendations for your Dosha
Ayurveda describes the Doshas as natural forces of energy that help us classify our mind-body characteristics, including our skin. Learn more about your Dosha and receive your customized Ayurvedic skincare ritual.
TAKE THE DOSHA QUIZ
Delightful oil
I use this every day on my wet skin after showering. Keeps my skin soft and smells wonderful!
Soothing
I use this oil in the shower as a massage and oil to shave! Especially in the dry winter months - this helps keep my sensitive skin hydrated and it doubles as a safe shaving product with my razor!
This is a gentle and delightful oil that works well to moisturize my skin year round with a delightful fragrance.
Heavenly
Am 84 yrs old. Have been trying for many years to find facial oil to soothe my skin. Received Christmas gift of rose bath oil and after reading ingredients decided to use on winter dried face! Worked better than any face cream I have ever used! So now I use on every part of my body and it makes me feel "heavenly" thank you❤️
Comforting body oil
I love using this bath oil as a body oil after I shower. I love both the Rose Organic Bath Oil and the Jasmine as body oils. They smell so good. I alternate between the two. I find the scent of the Rose comforting and calming.
Food for the Skin
Our Ayurvedic formulas are created exclusively with pure, natural, whole-food ingredients that your skin can easily recognize, without harmful synthetics and chemicals.
Handcrafted in small batches wth no artificial preservatives.