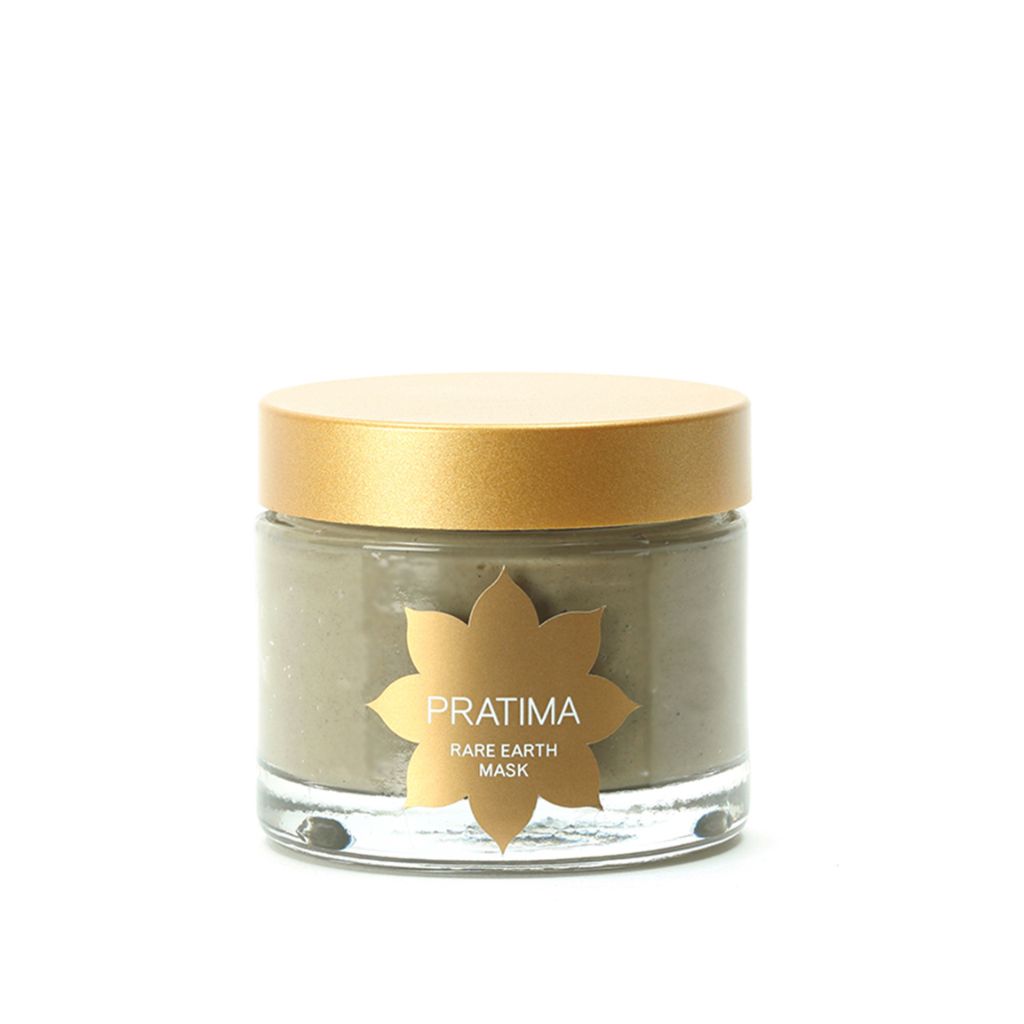 About
Ideal For
Ingredients
How to Use
A highly restorative mineral mask for the face, this unique formula absorbs impurities and visibly evens skin tone and texture. Handcrafted with healing earth clays and rejuvenating vitamins A, C, and E, skin is instantly softer and more luminous.

An essential step in our natural discoloration treatments for the face, this weekly ritual helps smooth out signs of hyperpigmentation, scarring, and uneven skin tone. For best results, use in conjunction with our Bakuchi Skin Brightening Oil and Manjistha Discoloration Lotion.

PRATIMA's all-natural face Masks offer concentrated nutrition at a therapeutic level to support healthy cells, visibly improve complexions and rebalance skin conditions.


All skin types

Fading discoloration

Natural skin detoxification

Gentle resurfacing
Bentonite, Magnesium Sulfate, Kaolin, Amla, Vitamin A (naturally derived), Vitamin E (naturally derived).
Explore our complete ingredient glossary.
Apply a thin layer to a clean face, avoiding the eye area. Leave on for 5-10 minutes, rinse with water. Use twice a week or daily for hyperpigmentation.
Want to try it before you buy it?
, add two other products you wish to try for $7, and you'll receive 10% off your next purchase! *While you may purchase as many sample sets as you'd like, the 10% code is delivered only after your first sample purchase.
Pairs well with:
PRATIMA Tips
To help further even skin tone and reduce the appearance of large pores, remove with a clean, wet cloth.

Whenever using a mask, take time to lie down. This helps to not only bring circulation to the area, but also prevents the skin tissue from being stressed by gravity and enables you to take a few moments for meditation.
Care & Shelf Life
Store in a cool, dry place away from sunlight and moisture. Always use clean, dry hands when coming in contact with the formula. Close the jar tightly after each use. Since this formula contains no artificial preservatives, please use within 5-6 months.
Have a Question?
Contact our Ayurvedic Skincare Experts
Our team is happy to help with product recommendations, application tips, and more.
"PRATIMA products are organic and chemical-free, and have ingredients like sandalwood, lentils, coriander, and orange peel. Everything is gentle, and smells simultaneously earthy and delicious."
"If you've done some research on experts in Ayurveda, you've likely come across Dr. Pratima Raichur. The New York-based Ayurvedic physician and naturopath has bottled over 40 years of experience into her line of 100 percent natural products for the skin, hair, and body."
"A friend and client turned me on to PRATIMA and I am obsessed with her skin-care products."
Therapeutic Specialty Care
With nature-intelligent formulas derived from healing Ayurvedic herbs and botanicals, PRATIMA specialty care rituals target the source of imbalance for lasting, effective results you can see.
Personalized Ayurvedic Skincare Recommendations for your Dosha
Ayurveda describes the Doshas as natural forces of energy that help us classify our mind-body characteristics, including our skin. Learn more about your Dosha and receive your customized Ayurvedic skincare ritual.
TAKE THE DOSHA QUIZ
Beautiful mask
A wonderful clay face mask that deeply purifies, comforts and replenishes my skin. Gentle enough to use 1-2 times a week, leaving the skin feeling clean and refreshed after use. Definitely recommend!
Amazing!
I use this mask once a week and it leaves my skin feeling amazing!
Love it!
I use this mask weekly. It helps even my skin tone. My skin looks smoother and brighter:-)
Great mask for sensitive skin
I have very sensitive skin and was reluctant to try this mask. I first purchased a sample to try and loved the mask and how it make my skin feel. Loved it so much I purchased the 2 oz size.
my go to
Adding this mask in once a week has really changed my skin! Feels clearer, smoother, and brighter!
Food for the Skin
Our Ayurvedic formulas are created exclusively with pure, natural, whole-food ingredients that your skin can easily recognize, without harmful synthetics and chemicals.
Handcrafted in small batches wth no artificial preservatives.