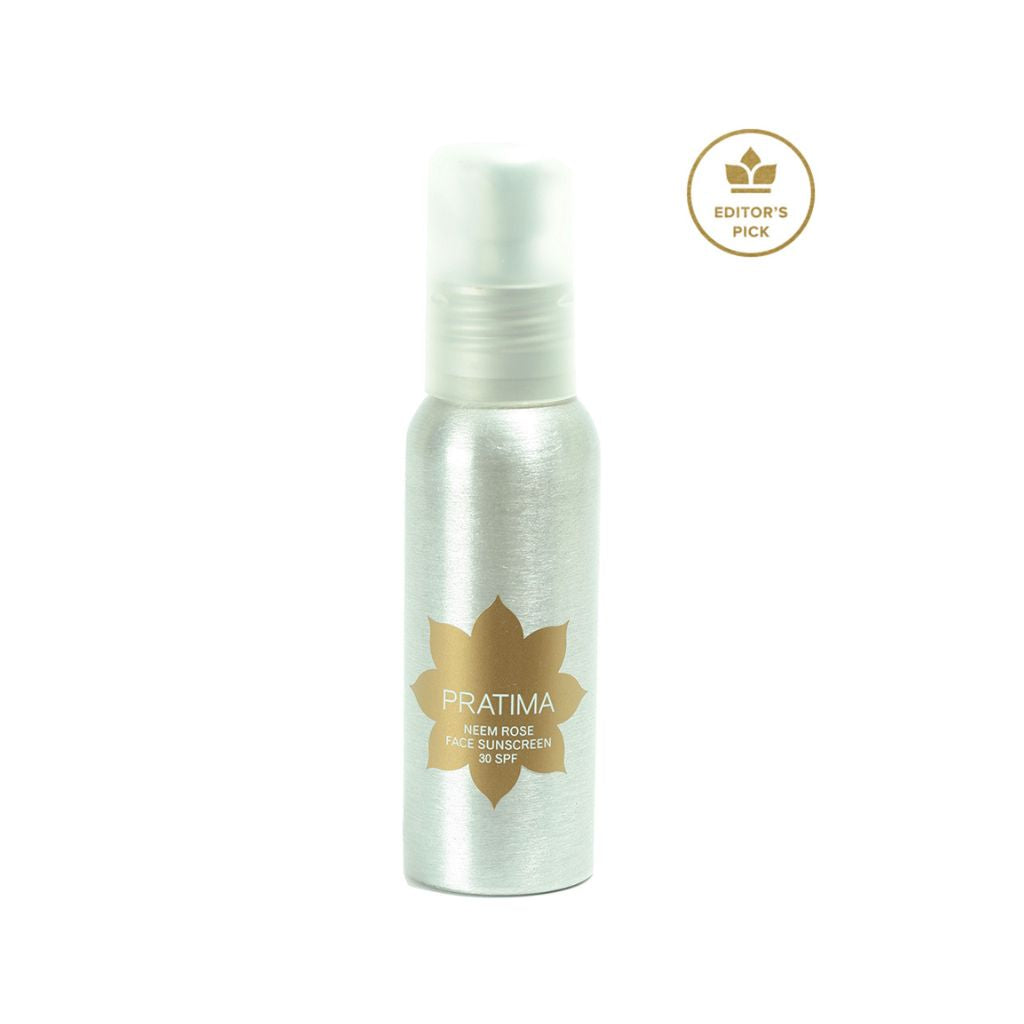 Neem Rose Face Sunscreen SPF 30
About
Ideal For
Ingredients
How to Use
This all-natural face sunscreen with SPF 30 combines organic botanicals with non-nano zinc oxide (18.65%) for profound protection against harmful UVA, UVB, and UVC rays. Guard against premature aging caused by sun damage, while ultra-healing neem prevents breakouts and cooling rose promotes cell regeneration.
Our best-selling beauty editor favorite is a highly effective year-round mineral sunscreen that leaves no white shadow behind. Essential for any skincare routine, this silky, non-clogging formula absorbs flawlessly while hydrating and protecting the skin. Suitable for all ages and all skin types, including sensitive and acne-prone complexions.
For best results, apply before sun exposure and reapply every two hours with careful attention after water activities or perspiring.
Beauty editor love for Neem Rose Face Sunscreen SPF 30:
"Soho's Ayurvedic beauty doctor makes this amazing sunscreen with about five ingredients. The texture and rose scent are super elegant, like a beauty product you'd pay way more for." - Well + Good
"For the beach, I'll be filling my straw tote bag with PRATIMA's natural face sunscreen." - Vogue
"I've struggled with finding a sunscreen that goes on smoothly under makeup and is actually effective, but I finally did. This is it, guys!" - The Coveteur
"The best sunscreen for your face." - Elle
"This unassuming bottle contains one of the best SPF moisturizers our skin has ever come in contact with." - Refinery 29
All skin types

Daily sun explore

Lightweight moisture

Premature aging prevention

Even skin tone

Blemish treatment
Distilled Water, Zinc oxide (non-nano), Rose Flower Water, Aloe Vera, Neem, Brahmi, Sunflower lecithin, Shatavari, Licorice, Vegan Cetearyl Alcohol, Acacia Senegal Gum, Rosemary Antioxidant CO2, Vitamin E (naturally derived).
Explore our complete ingredient glossary.
Apply daily on face and neck. For direct sun exposure, reapply every 2 hours and after swimming.
Want to try it before you buy it?
, add two other products you wish to try for $7, and you'll receive 10% off your next purchase! *While you may purchase as many sample sets as you'd like, the 10% code is delivered only after your first sample purchase.
Pairs well with:
Neem Rose Face Sunscreen SPF 30
PRATIMA Tips
With hydrating properties, this suncreen can be used daily as a light and healing moisturizer.

In cases of extedned or extreme sun exposure, layer over Healing Neem Oil.
Care & Shelf Life
Store in a cool, dry place away from sunlight and moisture. Always use clean, dry hands when coming in contact with the formula. Recap after each use. Since this formula contains no artificial preservatives, please use within 5-6 months.
Have a Question?
Contact our Ayurvedic Skincare Experts
Our team is happy to help with product recommendations, application tips, and more.
"For the beach, I'll be filling my straw tote bag with PRATIMA's natural face sunscreen."
"The texture and rose scent are super elegant, like a beauty product you'd pay way more for."
"The best sunscreen for your face."
Therapeutic Specialty Care
With nature-intelligent formulas derived from healing Ayurvedic herbs and botanicals, PRATIMA specialty care rituals target the source of imbalance for lasting, effective results you can see.
Personalized Ayurvedic Skincare Recommendations for your Dosha
Ayurveda describes the Doshas as natural forces of energy that help us classify our mind-body characteristics, including our skin. Learn more about your Dosha and receive your customized Ayurvedic skincare ritual.
TAKE THE DOSHA QUIZ
Best SPF
This is the best sunscreen I have found. Period. Over the years I've tried others just to compare, but my sensitive skin always comes back to this one. I just wish there were a larger size for body as well.
Love this spf
Such a great and effective spf…. Leavesthe skin feeling amazing and doesn't clog pores….. sits perfectly under makeup without chalking. Absolutely LOVE
Neem Rose Face Sunscreen
I absolutely LOVE Neem Rose Face Sunscreen.
I've been using it for a few years, and ran out of it. Recently, I ordered it again. Don't know how I lived without it. It's incomparable!
It's light, creamy and made with Pratima's wholesome ingredients. It goes on like a second skin...I can't say enough about it!
Love this!
My favorite sunscreen for face! Light, yet really protects and smells amazing! Only one I use.
Gentle on Sensitive Skin and Effective
This sunscreen is perfect for my blemish prone skin. It's protective and it doesn't cause any breakouts. I find that it is also soothing for my inflamed skin.
Food for the Skin
Our Ayurvedic formulas are created exclusively with pure, natural, whole-food ingredients that your skin can easily recognize, without harmful synthetics and chemicals.
Handcrafted in small batches wth no artificial preservatives.