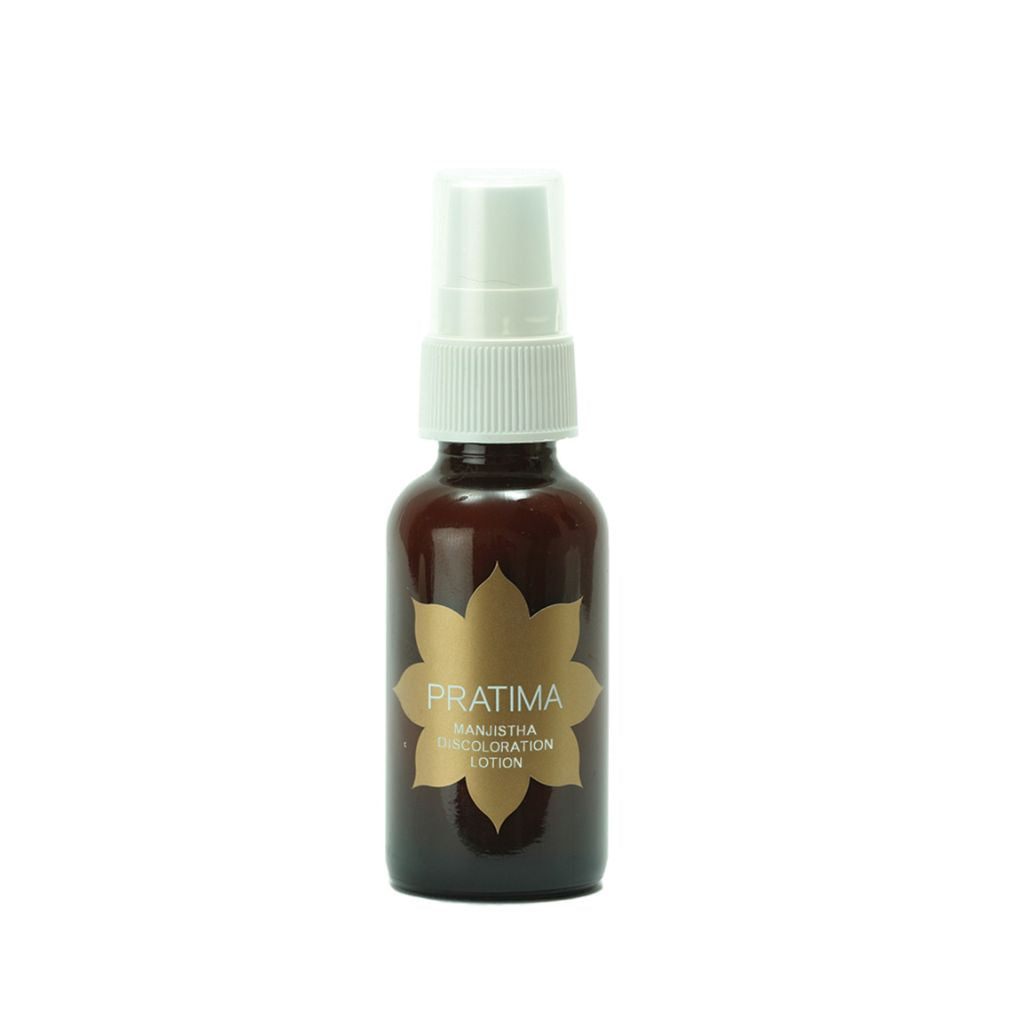 Manjistha Discoloration Lotion
About
Ideal For
Ingredients
How to Use
With powerful healing properties, antioxidant manjistha works beneath the skin to remedy signs of discoloration, naturally softening dark spots and smoothing over areas of irregularity. Pure turmeric and vitamin E add vital nutrition to the skin for soft, glowing complexions.
An essential step in our natural discoloration treatments for the face, this therapeutic lotion helps fade hyperpigmentation, uneven skin tone, and acne marks. For best results, apply after our Bakuchi Skin Brightening Oil.
All skin types

Fading discoloration

Evening skin tone
Almond Oil, Cucumber, Aloe Vera, Manjistha, Turmeric, Sweet Orange, Papaya, Raktachandan (Red Sandalwood), Sandalwood, Vitamin E (naturally derived).
Explore our complete ingredient glossary.
Massage on affected areas until completely absorbed by the skin. For best results, use in conjunction with Bakuchi Skin Brightening Oil and Rare Earth Mask

Want to try it before you buy it?
, add two other products you wish to try for $7, and you'll receive 10% off your next purchase! *While you may purchase as many sample sets as you'd like, the 10% code is delivered only after your first sample purchase.
Pairs well with:
Manjistha Discoloration Lotion
PRATIMA Tips
Discoloration of the skin can be caused by dietary or hereditary issues. If you are experiencing severe darkening of the skin, we recommend exploring an Ayurvedic Consultation with Dr. Pratima Raichur.
Care & Shelf Life
Store in a cool, dry place away from sunlight and moisture. Always use clean, dry hands when coming in contact with the formula. Recap after each use. Since this formula contains no artificial preservatives, please use within 5-6 months.
Have a Question?
Contact our Ayurvedic Skincare Experts
Our team is happy to help with product recommendations, application tips, and more.
"If you've done some research on experts in Ayurveda, you've likely come across Dr. Pratima Raichur. The New York-based Ayurvedic physician and naturopath has bottled over 40 years of experience into her line of 100 percent natural products for the skin, hair, and body."
"PRATIMA products are organic and chemical-free, and have ingredients like sandalwood, lentils, coriander, and orange peel. Everything is gentle, and smells simultaneously earthy and delicious."
"You can find some divine skin care at PRATIMA, so drop down and get your Dosha on, girl."
Therapeutic Specialty Care
With nature-intelligent formulas derived from healing Ayurvedic herbs and botanicals, PRATIMA specialty care rituals target the source of imbalance for lasting, effective results you can see.
Personalized Ayurvedic Skincare Recommendations for your Dosha
Ayurveda describes the Doshas as natural forces of energy that help us classify our mind-body characteristics, including our skin. Learn more about your Dosha and receive your customized Ayurvedic skincare ritual.
TAKE THE DOSHA QUIZ
It's very lightweight and helps lighten the discoloration.
Amazing product!
I purchased this product to help with discoloration and it's wonderful! Using this with the bakuchiol oil and it's really helping plus it's not irritating my very sensitive skin at all!
Skin is glowing after use!
My mom and I have both been using this for a little while, and you see a noticeable difference even after you put it on! It's lightweight and we love it during the winter months when you need a little complexion pick me up. Combined with the Bakuchi Skin Brightening Face Oil it's faded my mom's skin discoloration for too much sun exposure fast. Will definitely be purchasing again.
Light and Bright
The Manjistha lotion targets my scars and other hyperpigmentation. It has a lovely subtle citrus smell, goes on light but is moisturizing. I use it with the Bakuchi oil. This has brightened and evened my complexion.
All products are great
Manjistha Discoloration Lotion smells good and is light weight. I am yet to see a difference in my skin discoloration but perhaps it is too early to tell. Pratima products are all natural which is the best I can give to my skin and body.
Food for the Skin
Our Ayurvedic formulas are created exclusively with pure, natural, whole-food ingredients that your skin can easily recognize, without harmful synthetics and chemicals.
Handcrafted in small batches wth no artificial preservatives.