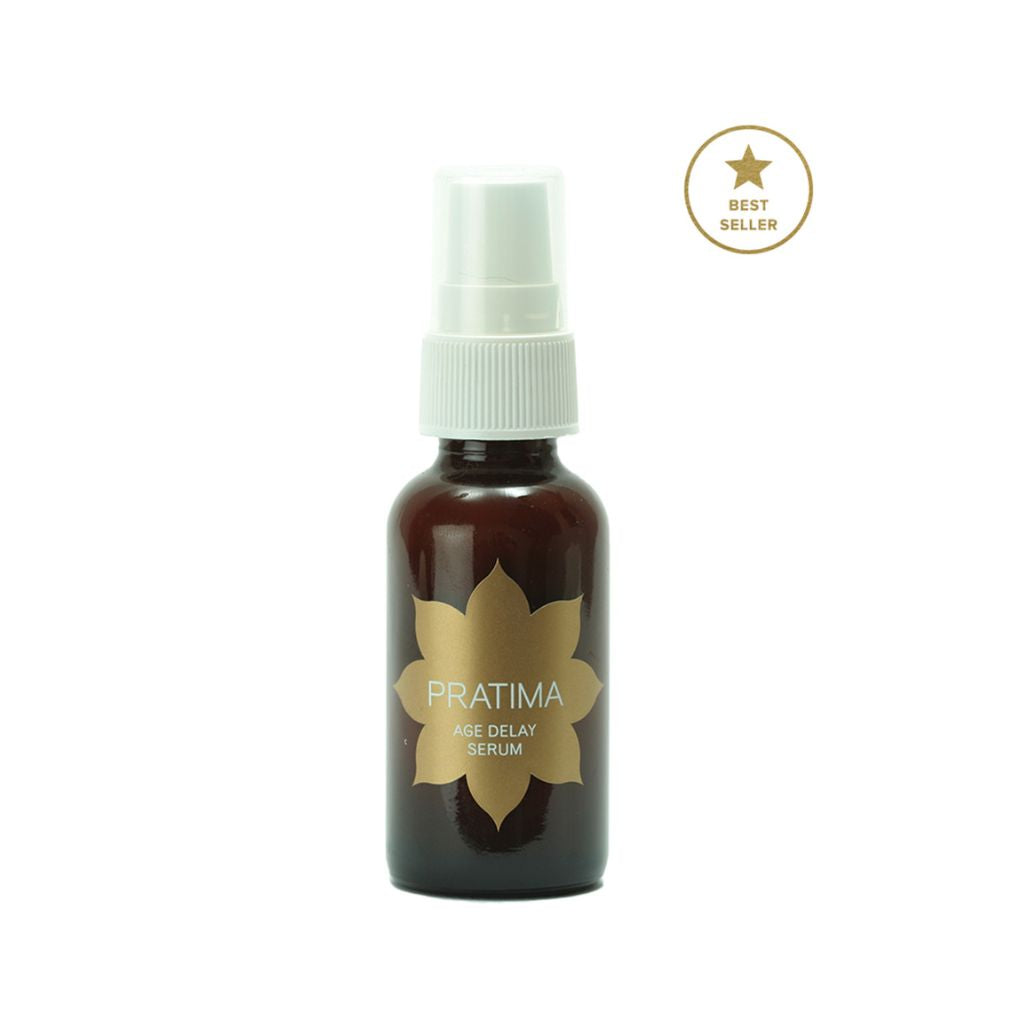 About
Ideal For
Ingredients
How to Use
A highly advanced formula of antioxidants, marine plant peptides, and Ayurvedic super herbs offer premium care and active defenses against premature aging. Boost skin's immunity with amla, nature's most potent source of natural vitamin C, while pure rose and medicinal brahmi promote cell rejuvenation. Botanical humectants aloe vera, jojoba oil, and sodium hyaluronate attract and maintain cellular water levels, keeping skin hydrated, supple, and smooth.
A PRATIMA Skincare best-seller.

The signature formula in our age delay skincare collection, this therapeutic treatment reverses sun damage, promotes natural collagen production, and minimizes the appearance of fine lines and wrinkles. Suitable for all ages and all skin types.
All skin types

Premature aging treatment and prevention

Minimizing fine lines and wrinkles

Oils of Olive*, Almond*, Sesame*, Jojoba*, and Perilla*, Aloe Vera Hydrosol*, Laminaria Saccharina Peptide, Alpha Lipoid Acid, Sodium Hyaluronate, Glyceryl Stearate (vegetable derived), Extracts of Green Tea*, Grape Seed*, Ginger, Punarnava*, Shatavari*, Brahmi*, Gotu Kola*, Rose*, Vitamin A (naturally derived), Vitamin B5 (naturally derived), Vitamin C, Vitamin E (naturally derived). *certified organic
Explore our complete ingredient glossary.
Massage two pumps all over face and neck after using your appropriate PRATIMA face Essential Oil.
Pairs well with:
PRATIMA Tips
This formula can be applied all over the face and neck, or on specific areas of concern.

For very dry skin, follow with a PRATIMA moisturizer.
Care & Shelf Life
Store in a cool, dry place away from sunlight and moisture. Always use clean, dry hands when coming in contact with the formula. Recap after each use. Since this formula contains no artificial preservatives, please use within 5-6 months.
Have a Question?
Contact our Ayurvedic Skincare Experts
Our team is happy to help with product recommendations, application tips, and more.
"PRATIMA products are organic and chemical-free, and have ingredients like sandalwood, lentils, coriander, and orange peel. Everything is gentle, and smells simultaneously earthy and delicious."
"If you've done some research on experts in Ayurveda, you've likely come across Dr. Pratima Raichur. The New York-based Ayurvedic physician and naturopath has bottled over 40 years of experience into her line of 100 percent natural products for the skin, hair, and body."
"You can find some divine skin care at PRATIMA, so drop down and get your Dosha on, girl."
Therapeutic Specialty Care
With nature-intelligent formulas derived from healing Ayurvedic herbs and botanicals, PRATIMA specialty care rituals target the source of imbalance for lasting, effective results you can see.
Personalized Ayurvedic Skincare Recommendations for your Dosha
Ayurveda describes the Doshas as natural forces of energy that help us classify our mind-body characteristics, including our skin. Learn more about your Dosha and receive your customized Ayurvedic skincare ritual.
TAKE THE DOSHA QUIZ
My nighttime ritual
I apply this after my oils at night, and my skin feels silky smooth and nourished. Highly recommend!
Without A Doubt, The Best!
The age delay serum is fortified with powerful age-delay ingredients, with a great formula rooted in Ayurveda. It nurtures and helps my skin revive to a healthy youthful appearance by lifting and forming a shield to protect the skin, giving a radiant and illuminating look. Without a doubt, the best anti aging serum I've ever used. It's one of my icon products.
Age delay
Just added this to my daily ritual. Hydrates and feels wonderful.
Rich, smooth & deeply nourishing
The Age Delay is a rich, smooth and deeply nourishing cream. I love to put it on at night after using the liposomes & the rejuvenating oil. Divine!
Amazing skin
I enjoy using all the Pratima skin care products. I have often been mistaken for a younger woman because of the condition of my skin. Even a restaurant waitress said she wished she had skin like mine. I do believe it diminishes the appearance of wrinkles.
Food for the Skin
Our Ayurvedic formulas are created exclusively with pure, natural, whole-food ingredients that your skin can easily recognize, without harmful synthetics and chemicals.
Handcrafted in small batches wth no artificial preservatives.