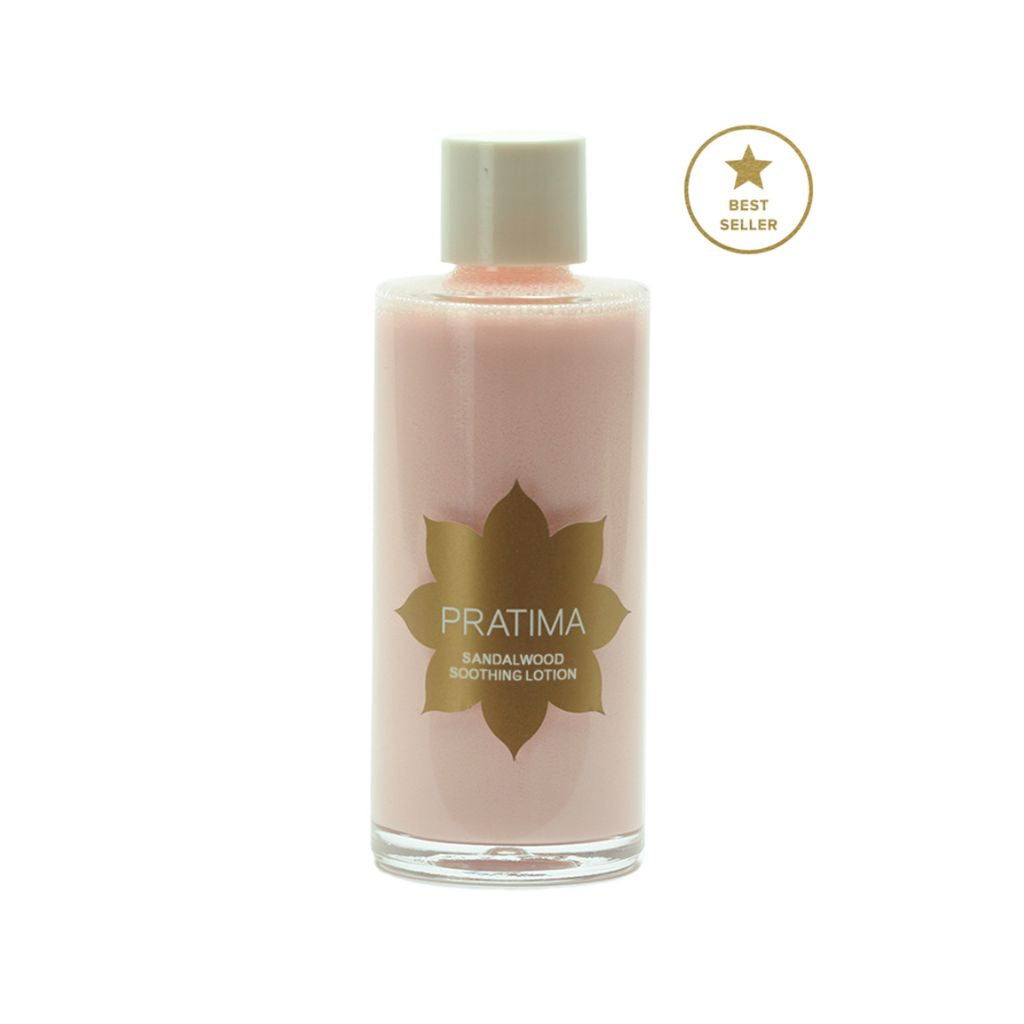 Sandalwood Soothing Lotion
For blemishes & problem skin
About
Ideal For
Ingredients
How to Use
An ultra-pacifying herbal remedy featuring calamine, comfrey, and neem, our signature spot treatment heals breakouts on the face and offers dramatic and immediate relief from acne, irritation, rashes, and inflammation.

A PRATIMA Skincare best-seller.

A key step in our acne & blemish skincare collection, this healing formula detoxifies and soothes irritation through antibacterial and antimicrobial botanicals that calm inflamed skin. This gentle tonic can be used in lieu of water with our Neem Soothing Mask for a powerful blemish solution. Also effective on cuts, scrapes, and bug bites.
All skin types

Acne and breakouts

Rosacea acne

Rashes and irritation

Natural first-aid for bug bites, cuts, and scrapes

Distilled Water, Calamine, Zinc Oxide (non-nano), Camphor, Witch Hazel, Neem, Chamomile, Comfrey, Sandalwood, Karanj.
Explore our complete ingredient glossary.
Shake well and massage directly on affected areas before and after your appropriate PRATIMA Face Essential Oil. Can be applied to areas on the body as needed. Use twice daily or as many times as needed.

Want to try it before you buy it?
, add two other products you wish to try for $7, and you'll receive 10% off your next purchase! *While you may purchase as many sample sets as you'd like, the 10% code is delivered only after your first sample purchase.
Pairs well with:
Sandalwood Soothing Lotion
PRATIMA Tips
This gentle tonic can be used in lieu of water with our Neem Soothing Mask for a powerful blemish solution.

For very oily skin, massage a few drops on the t-zone or areas where there is excess oil production to control shine throughout the day. For large cystic blemishes, apply more than twice a day. Before bedtime, apply a thicker layer and keep overnight.
Care & Shelf Life
Store in a cool, dry place away from sunlight and moisture. Close the bottle tightly after each use. Since this formula contains no artificial preservatives, please use within 5-6 months.
Have a Question?
Contact our Ayurvedic Skincare Experts
Our team is happy to help with product recommendations, application tips, and more.
"These products are handmade by botanist, chemist, and Ayurvedic physician Dr. Pratima Raichur, who ensures that her certified-organic and cruelty-free formulations get the utmost care."
"A friend and client turned me on to PRATIMA and I am obsessed with her skin-care products."
"You can find some divine skin care at PRATIMA, so drop down and get your Dosha on, girl."
Therapeutic Specialty Care
With nature-intelligent formulas derived from healing Ayurvedic herbs and botanicals, PRATIMA specialty care rituals target the source of imbalance for lasting, effective results you can see.
Personalized Ayurvedic Skincare Recommendations for your Dosha
Ayurveda describes the Doshas as natural forces of energy that help us classify our mind-body characteristics, including our skin. Learn more about your Dosha and receive your customized Ayurvedic skincare ritual.
TAKE THE DOSHA QUIZ
for everything …
i use this for absolutely everything … my kids's rashes or bug bites, as well as breakouts or irritation. when i used to have bad cystic acne i put it all over my face at night and it was super soothing. now thankfully i only need to use it as a spot treatment every so often. this stuff is a must for every mama's first aid & self care kit!
Great for eczema even
This works for me to reduce/eliminate eczema even though that isn't what it is sold for. Very good at soothing any irritation on skin.
Amazing
This works wonders for so many issues. Like the name says, it really does calm irritated skin.
Cures acne
My teenage son uses this for acne and I feel safe with the natural ingredients. It works great for cuts and bug bites too.
better than plain calamine lotion
I like the additions of neem and sandalwood here to keep skin clear and reduce redness. It works well for pimples and bug bites all over the body. I mix it with the neem face mask for a potent topical spot treatment for blemishes on my face.
Food for the Skin
Our Ayurvedic formulas are created exclusively with pure, natural, whole-food ingredients that your skin can easily recognize, without harmful synthetics and chemicals.
Handcrafted in small batches wth no artificial preservatives.