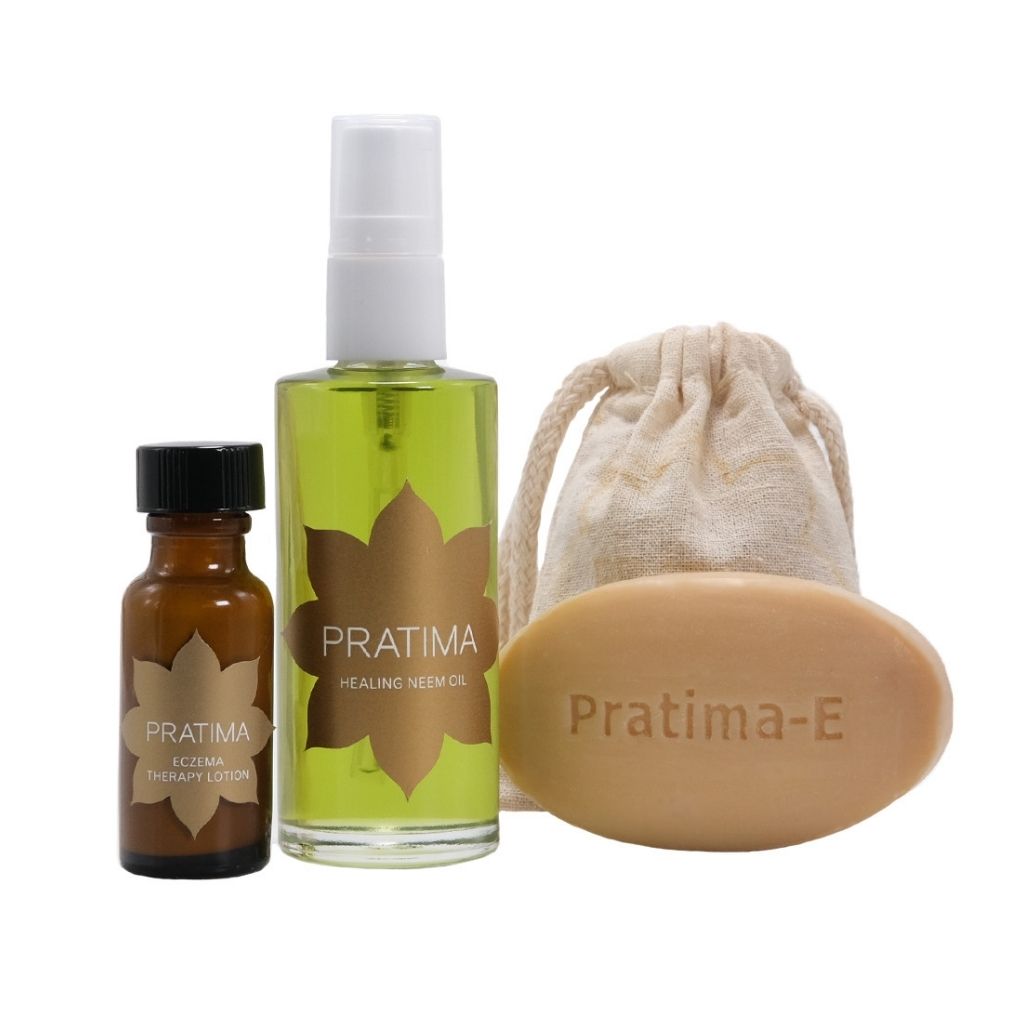 For eczema & chronic dry patches
About
Ideal For
Ingredients
How to Use
Featuring pure, herbal formulas that heal and soothe chronic skin conditions caused by eczema, dermatitis, and chronic dry patches, this daily ritual for the face and body purifies and heals dry, itchy skin with antibacterial and reparative botanicals to mitigate patterns of flare-ups.
In an eco-friendly muslin pouch, this set includes:
Eczema Soap, 60g.
Purifies and soothes dry patches while protecting the skin's hydration barrier.
Healing Neem Oil, 2 oz.
Deeply nourishes the skin as Ayurvedic super-herb, neem, actively calms and heals irritation caused by eczema.
Eczema Therapy Lotion, 0.5 oz.
Fortifies and hydrates the skin, while elevating the cellular rejuvenation properties.
Ayurvedic solutions for treating eczema skin

In Ayurveda, eczema is primarily a Pitta condition, but depending on the balance of the other doshas, the condition may present itself with dry, oily, and even acneic characteristics.

Eczema can appear in varying intensities, ranging from a minor occurrence to a full chronic pattern.

For a holistic approach to treating eczema, explore one-on-one Ayurvedic Consultations with Dr. Pratima Raichur, including specialized sessions for Skin & Dermatology that offer in-depth insights addressing the root cause of the imbalance, as well as customized nutrition and lifestyle recommendations for total wellness.
Eczema-prone skin

Dry, irritated areas of face and body
Eczema Soap: Organic Sunflower Oil, Kokum Butter, Turmeric C02, Aloe Barbadensis Leaf Juice, Holy Basil (Tulsi) Extract, Cucumber Juice, Neem C02, Ashwagandha Extract, Manjistha Extract, Guduchi Extract, Rasanjan Extract, Black Cumin Seed Oil, Coriander Seed oil, Rosemary extract.

Eczema Therapy Lotion: Wrightia Tinctoria, Neem, Indian Sarsaparilla, Ashwagandha, Turmeric, Amla.

Healing Neem Oil: Neem, Avocado, Brahmi, Basil, Sandalwood, Sunflower, Rose, Lavender.
Explore our complete ingredient glossary.
Counter the effects eczema-prone skin and chronic dry patches with this therapeutic treatment set. Vary usage based on your skin's needs: apply episodically or, in the case of chronic conditions, incorporate as a twice-daily healing ritual.

Step 1: Lather and apply the Eczema Soap bar on affected areas to purify and soothe eczema-prone skin while protecting the skin's hydration barrier.Recommended for twice daily use.

Step 2: Massage Healing Neem Oil over slightly damp skin into all areas of dryness, irritations, or eczema-prone skin. Adjust the amount of oil to the size of the treatment areas. While best applied on clean skin, Healing Neem Oil can be used as needed. Recommended as a twice daily ritual. Reduce application frequency as conditions improve.

Step 3: Apply a thin layer of Eczema Therapy Lotion on all spots or areas of eczema and dry irritations. For best results, apply daily. Recommended for twice daily use for acute conditions. Reduce to once a day as conditions improve.
PRATIMA Tips
If skin is very dry, mix organic avocado oil with the Healing Neem Oil in a one-to-one ratio (i.e. 3 drops each) on all areas of concern.

For severe or chronic eczema, a Skin & Dermatology Consultation with Dr. Pratima Raichur is recommended.
Care & Shelf Life
Store in a cool, dry place away from sunlight and moisture. Close the bottles and jars tightly after each use. Since these formulas contain no artificial preservatives, please use within 5-6 months.
Have a Question?
Contact our Ayurvedic Skincare Experts
Our team is happy to help with product recommendations, application tips, and more.
"You can find some divine skin care at PRATIMA, so drop down and get your Dosha on, girl."
"If you've done some research on experts in Ayurveda, you've likely come across Dr. Pratima Raichur. The New York-based Ayurvedic physician and naturopath has bottled over 40 years of experience into her line of 100 percent natural products for the skin, hair, and body."
"A friend and client turned me on to PRATIMA and I am obsessed with her skin-care products."
Therapeutic Specialty Care
With nature-intelligent formulas derived from healing Ayurvedic herbs and botanicals, PRATIMA specialty care rituals target the source of imbalance for lasting, effective results you can see.
Personalized Ayurvedic Skincare Recommendations for your Dosha
Ayurveda describes the Doshas as natural forces of energy that help us classify our mind-body characteristics, including our skin. Learn more about your Dosha and receive your customized Ayurvedic skincare ritual.
TAKE THE DOSHA QUIZ
Soothing and moisturizing
I have mild eczema when the weather gets colder in Fall and Winter. This is a nice combination of products for eczema and sensitive/reactive skin. Kit is calming and moisturizing to my skin. I hope to see the soap sold separately.
Food for the Skin
Our Ayurvedic formulas are created exclusively with pure, natural, whole-food ingredients that your skin can easily recognize, without harmful synthetics and chemicals.
Handcrafted in small batches wth no artificial preservatives.