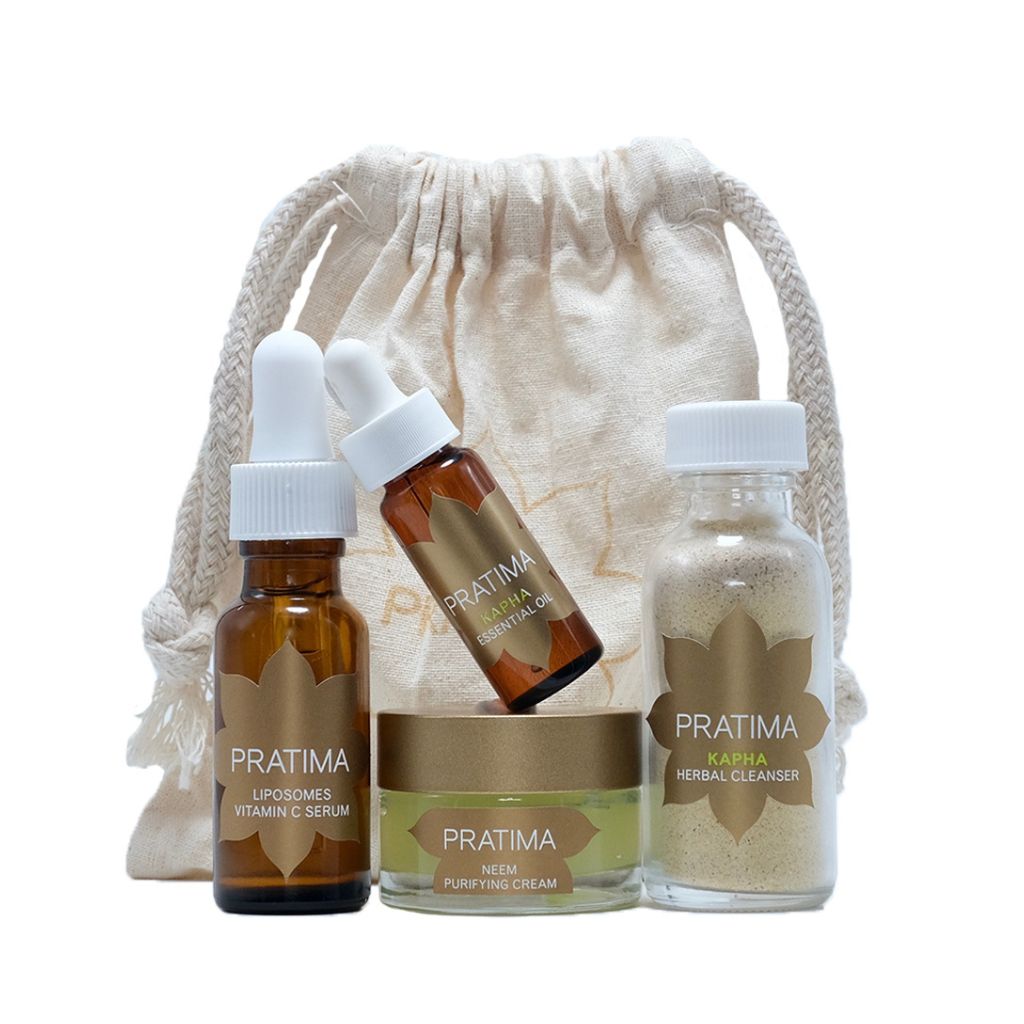 Kapha Essentials Starter Set
About
Ideal For
Ingredients
How to Use
In an eco-friendly muslin pouch, this set includes:

Kapha Herbal Cleanser, 30g.
A purifying cleanser with Sandalwood, Ritha & Lentils helps reduce oiliness and congestion, while exfoliating and tightening pores.

Kapha Essential Oil, 7ml.
A purifying formula with Sage, Mint, Lavender & Rosemary to nourish, decongest skin, while minimizing pores and reducing oiliness.

Liposomes, 15ml.
A profound antioxidant serum that transports essential oils deep into the skin to promote cell renewal, stimulate collagen and minimize the appearance of pores and scars.

Neem Purifying Cream, 15g.
Designed for congested and acne-prone skin, this light combination of anti-bacterial and anti-septic Neem, Brahmi, and Basil helps clear congestion, blemishes, and breakouts. Provides gentle hydration and improves overall skin health.

Kapha skin types

Oily complexions

Breakouts with cystic acne
Kapha Herbal Cleanser: Organic Milk Powder, Lentils, Coriander, Lemon Peel, Red Sandalwood, Shikakai, Fenugreek, Ritha.

Kapha Face Essential Oil: Almond Oil, Sunflower, Rose, Sandalwood, Ylang Ylang, Jasmine, Vitamin E (naturally derived).

Liposomes Vitamin C Serum: Soya Bean, Fennel, Amla, Jasmine, Rose, Distilled Water, Vitamin E (naturally derived).

Neem Purifying Cream: Aloe Vera, Neem, Brahmi, Basil, Camphor, Basil, Sandalwood, Rose, Grape Seed Extract, Lavender.
Explore our complete ingredient glossary.
The Twice Daily Ritual: The first role of Ayurvedic skincare is cleanse, nourish, and moisturize no matter what type of skin you have. This 3-step routine is essential to counter the effects of the environment, stress, and the skin's natural imbalances.

CLEANSE: In the palm of your hand, mix a few
drops of water to a small amount of Kapha Herbal Cleanser to make a liquidy paste. Gently massage the mixture on the face in upward, circular motions. Rinse with warm water.

NOURISH: After cleansing, mix 3 drops each of Kapha Face Essential Oil and Liposomes Vitamin C Serum and massage thoroughly over face and neck until oils have fully absorbed. Best applied on clean, damp skin.

MOISTURIZE: Apply Neem Purifying Cream over face and neck to provide a protective hydrating barrier.
Pairs well with:
Kapha Essentials Starter Set
PRATIMA Tips
For extra exfoliation, add less water to your cleanser to obtain a thicker consistency. The mixture can also be left on the skin for 5-10 minutes and will work as a mask, further absorbing impurities.
Care & Shelf Life
Store in a cool, dry place away from sunlight and moisture. Close the bottles and jars tightly after each use. Since these formulas contain no artificial preservatives, please use within 5-6 months.
Have a Question?
Contact our Ayurvedic Skincare Experts
Our team is happy to help with product recommendations, application tips, and more.
"You can find some divine skin care at PRATIMA, so drop down and get your Dosha on, girl."
"If you've done some research on experts in Ayurveda, you've likely come across Dr. Pratima Raichur. The New York-based Ayurvedic physician and naturopath has bottled over 40 years of experience into her line of 100 percent natural products for the skin, hair, and body."
"The founder of this eponymous line began studying Ayurveda in India at 13. Now, at 83, she's still crafting her "nature-intelligent formulas" herself in her New York City lab."
Ayurvedic Beauty Rituals
Create a balancing daily routine with holistic, natural skincare and beauty regimens that support radiant, glowing complexions. Ayurvedic botanicals feed and nourish the skin, while protecting from environmental stressors and signs of premature aging.
Personalized Ayurvedic Skincare Recommendations for your Dosha
Ayurveda describes the Doshas as natural forces of energy that help us classify our mind-body characteristics, including our skin. Learn more about your Dosha and receive your customized Ayurvedic skincare ritual.
TAKE THE DOSHA QUIZ
Food for the Skin
Our Ayurvedic formulas are created exclusively with pure, natural, whole-food ingredients that your skin can easily recognize, without harmful synthetics and chemicals.
Handcrafted in small batches wth no artificial preservatives.