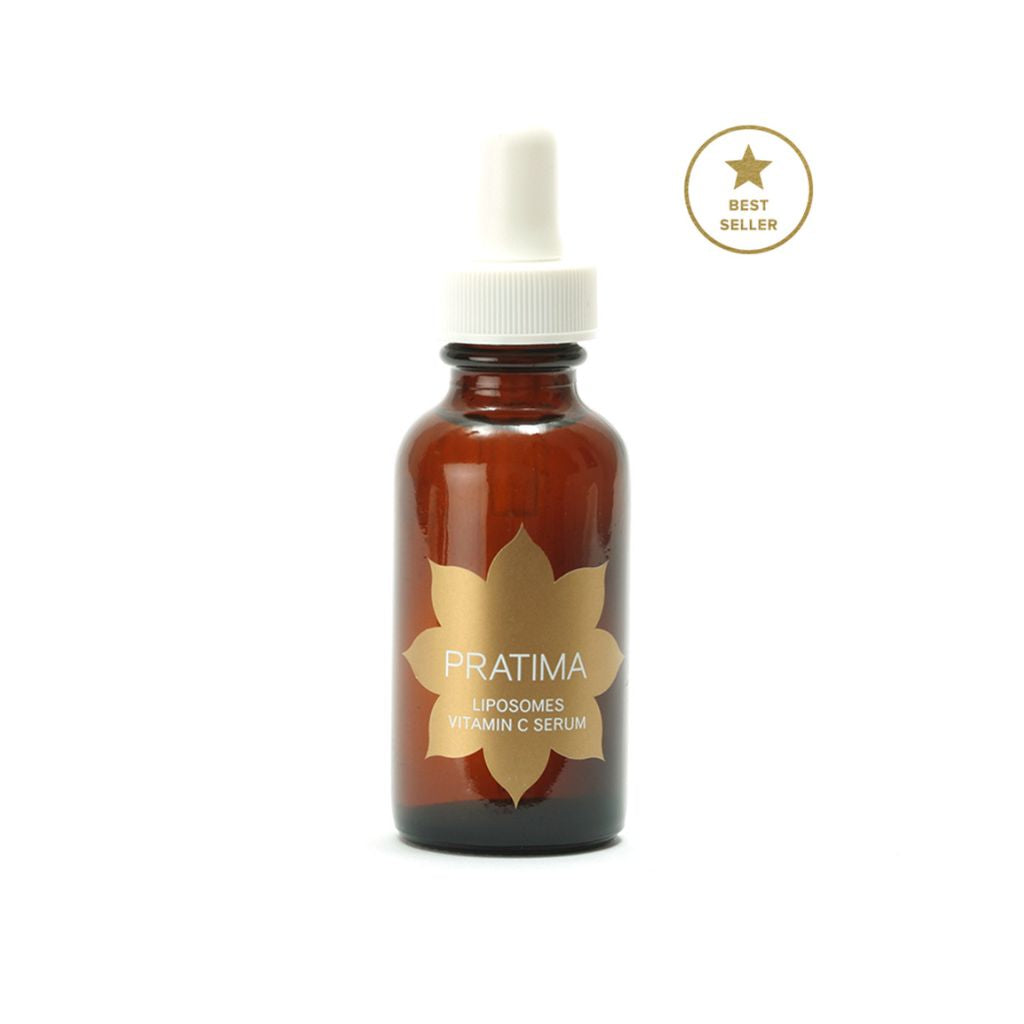 Liposomes Vitamin C Serum
About
Ideal For
Ingredients
How to Use
The perfect companion for our Face Essential Oils, this exclusive PRATIMA formula features pure organic soybeans and antioxidants C and E that support the transport of nutrients deep into the 7 layers of the skin to help promote cell renewal, firm tissue and support collagen production. A key element of a restorative natural skincare routine, these organic botanicals minimize the appearance of fine lines, pores, blemishes, discoloration, hyperpigmentation, and scars.
A PRATIMA Skincare best-seller.
Beauty editor love for Liposomes Vitamin C Serum:
"The lesson I learned after years of struggle is to not strip your skin—it shouldn't feel tight and dry after cleansing. At night, I deeply moisturize with a mix of PRATIMA Skincare's Liposomes Vitamin C Serum and Rejuvenating Essential Oil." - Byrdie
May not be suitable for very sensitive skin types.
All skin types (except very sensitive skin)

Smoothing skin complexion

Fading discoloration
Soya Bean, Fennel, Amla, Jasmine, Rose, Distilled Water, Vitamin E (naturally derived).
Explore our complete ingredient glossary.
Use twice daily after cleansing. Mix 3 -4 drops of Liposomes Vitamin C Serum with your appropriate PRATIMA Face Essential Oil. Massage gently on face and neck until fully absorbed. Not suitable for very sensitive skin.

Want to try it before you buy it?
, add two other products you wish to try for $7, and you'll receive 10% off your next purchase! *While you may purchase as many sample sets as you'd like, the 10% code is delivered only after your first sample purchase.
Pairs well with:
Liposomes Vitamin C Serum
PRATIMA Tips
To reduce the appearance of scars, combine a few drops of vitamin E with 3-4 drops of Liposomes and massage on affected area. You can also use the contents of the vitamin E capsule.
Care & Shelf Life
Store in a cool, dry place away from sunlight and moisture. Close the bottle tightly after each use. Since this formula contains no artificial preservatives, please use within 5-6 months.
Have a Question?
Contact our Ayurvedic Skincare Experts
Our team is happy to help with product recommendations, application tips, and more.
"The founder of this eponymous line began studying Ayurveda in India at 13. Now, at 83, she's still crafting her "nature-intelligent formulas" herself in her New York City lab."
"If you've done some research on experts in Ayurveda, you've likely come across Dr. Pratima Raichur. The New York-based Ayurvedic physician and naturopath has bottled over 40 years of experience into her line of 100 percent natural products for the skin, hair, and body."
"You can find some divine skin care at PRATIMA, so drop down and get your Dosha on, girl."
Healing Face Essential Oils
PRATIMA's organic Face Essential Oils are food for the skin and feature a unique molecular structure that penetrates to the deepest layer of facial tissue, addressing the root cause of skin imbalances for lasting results.
Personalized Ayurvedic Skincare Recommendations for your Dosha
Ayurveda describes the Doshas as natural forces of energy that help us classify our mind-body characteristics, including our skin. Learn more about your Dosha and receive your customized Ayurvedic skincare ritual.
TAKE THE DOSHA QUIZ
Perfect
I use in conjunction with rejuvenating oil for extra hydration
Yes and yes
I love adding the vitamin c to my facial oils! Use everyday and night!
Result!!!
This product has amazing results. I've been using it since my late 20's. Im now in my mid 30's….. people always ask do I get Botox… but no its all natural. Combined with the pratima essential oils, it's a game changer!!!
10/10
I see a noticeable difference in skin when adding Liposomes to my everyday routine. Truly facilitates cell regeneration and smells heavenly!
Liposome
This is a must to use with essential oils. It also smells lovely!
Food for the Skin
Our Ayurvedic formulas are created exclusively with pure, natural, whole-food ingredients that your skin can easily recognize, without harmful synthetics and chemicals.
Handcrafted in small batches wth no artificial preservatives.