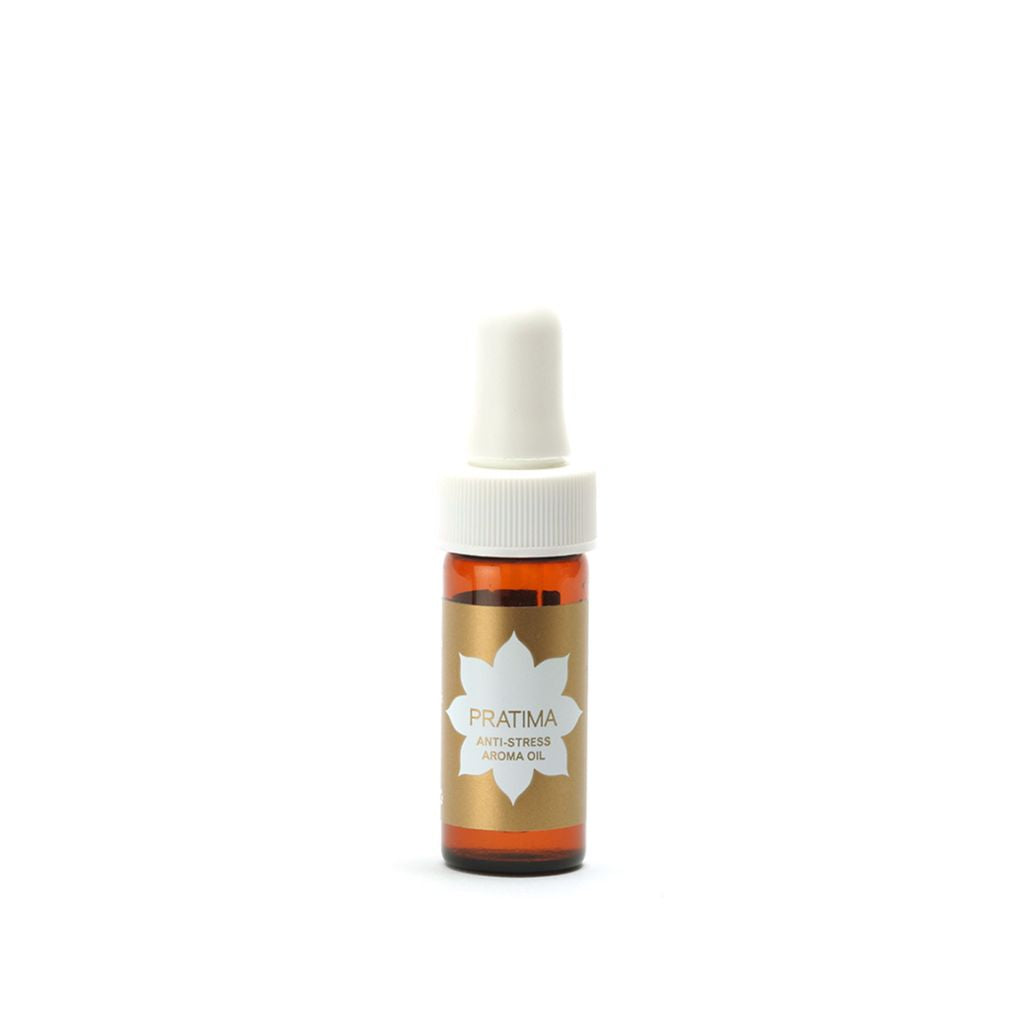 About
Ideal For
Ingredients
How to Use
Melt away stress and embrace the warmth of vanilla, cardamom, and jasmine essential oils in this natural aromatherapy tincture. Accented with sweet orange and fresh holy basil, this bouquet of pure herbs reduces anxiety, opens the heart, and eases the spirit.
Apply to pulse points anytime you wish to calm and soothe the mind or throughout the day as a natural perfume alternative.
PRATIMA's collection of custom-blended aromatherapy features unique properties that balance the nervous system while bringing a sense of peace and tranquility to the mind. Handcrafted from pure herbs, roots, and flowers, our formulas are 100% free of synthetic scents.
Stress relief

Natural perfume

Creating a peaceful mood

During meditation and yoga practice

Calming bedtime ritual
Apply a few drops on temples, earlobes, throat and wrists. Breathe in deeply.
Pairs well with:
PRATIMA Tips
Add a few drops on a tissue and place inside your pillow case at bedtime. Let the aroma guide you into deep relaxation.

Easily portable, this tincture offers a calming escape any time of day.
Care & Shelf Life
Store in a cool, dry place away from sunlight and moisture. Close the bottle tightly after each use. Since this formula contains no artificial preservatives, please use within 5-6 months.
Have a Question?
Contact our Ayurvedic Skincare Experts
Our team is happy to help with product recommendations, application tips, and more.
"PRATIMA products are organic and chemical-free, and have ingredients like sandalwood, lentils, coriander, and orange peel. Everything is gentle, and smells simultaneously earthy and delicious."
"A friend and client turned me on to PRATIMA and I am obsessed with her skin-care products."
"If you've done some research on experts in Ayurveda, you've likely come across Dr. Pratima Raichur. The New York-based Ayurvedic physician and naturopath has bottled over 40 years of experience into her line of 100 percent natural products for the skin, hair, and body."
Therapeutic Specialty Care
With nature-intelligent formulas derived from healing Ayurvedic herbs and botanicals, PRATIMA specialty care rituals target the source of imbalance for lasting, effective results you can see.
Personalized Ayurvedic Skincare Recommendations for your Dosha
Ayurveda describes the Doshas as natural forces of energy that help us classify our mind-body characteristics, including our skin. Learn more about your Dosha and receive your customized Ayurvedic skincare ritual.
TAKE THE DOSHA QUIZ
Sweet and relaxing
Orange and vanilla delicately combine to create this beautiful fragrance. Light and refreshing, I put it on before yoga clsss or when I need aromatherapy to relax! Behind the ears, neck, wrists, elbows, neck, and knees & ankles for a full body refresh. Highly recommend. I'll be ordering more! Doesn't burn or dry out the skin
Anti-Stress to Remind You To Breathe
LOVE this oil. Perfect reminder you give yourself day + night to just breathe. I have used this for 4 years and genuinely think it makes a difference! I used to use this before bed and now I use it in the morning before I take on the day for that extra push ( I also used this during labor earlier this year )!
The perfect boost when you feel that you need it
I keep my anti-stress oil in my cosmetic bag in my purse so if I need some soothing, it's ready to help me. The scent is somehow supportive and comforting. I out it on my wrists so I can smell it immediately.
Anti stress Aroma Oil
LOVE this oil. Perfect as a gift or for yourself anytime during the day or night. A real treat.
Anti-Stress Before Bed
I use the anti-stress aroma oil every night before going to sleep. I rub 1-2 drops on my wrists and the oil helps to calm my mind and relax. I inhale the aroma on my wrists to help with relaxation.
Food for the Skin
Our Ayurvedic formulas are created exclusively with pure, natural, whole-food ingredients that your skin can easily recognize, without harmful synthetics and chemicals.
Handcrafted in small batches wth no artificial preservatives.