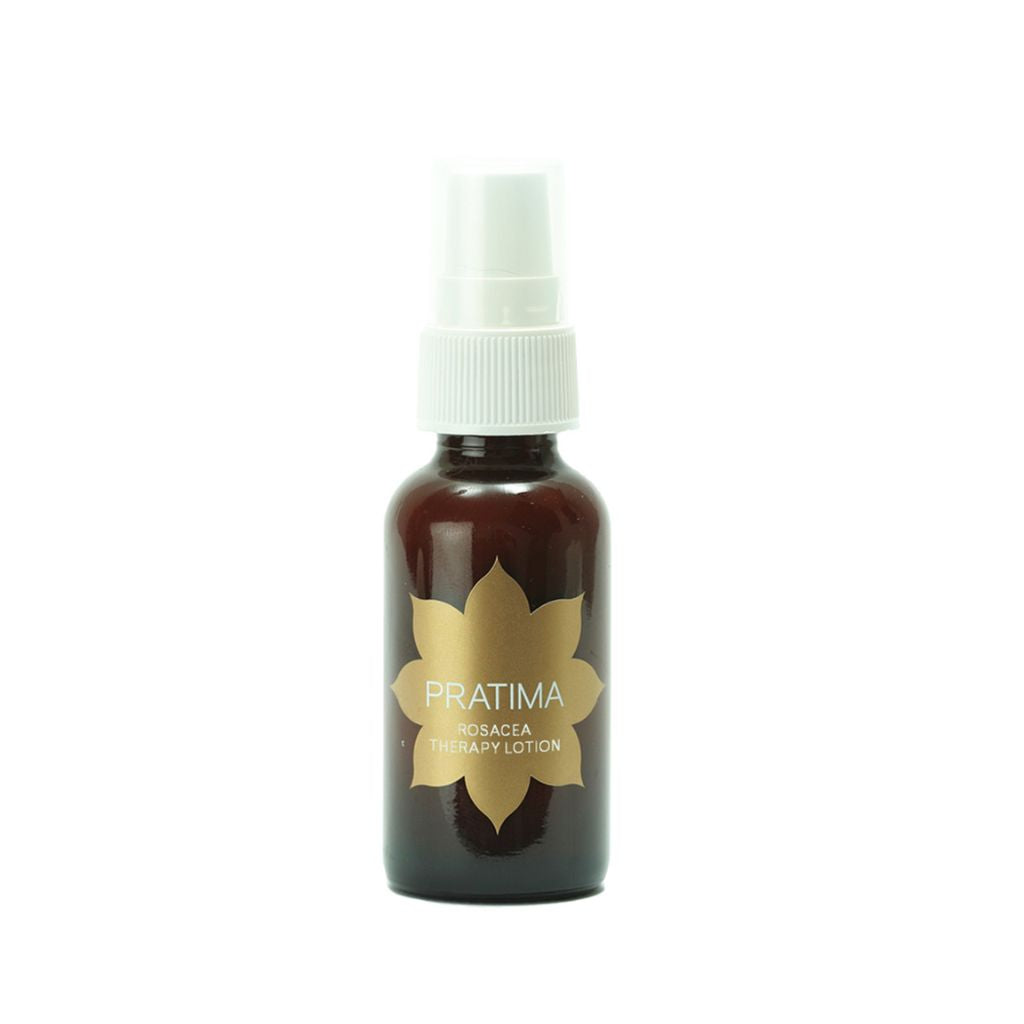 About
Ideal For
Ingredients
How to Use
A healing treatment for rosacea and very sensitive skin types, this soothing therapy cools the skin and minimizes redness. Pure turmeric, anantmool, and sandalwood reduce inflammation, while antioxidant amla nurtures cells and leaves skin with a healthy glow.
A key ritual in our rosacea skincare collection, this pacifying lotion offers calmer, smoother skin. For best results, apply after our Rosacea Face Essential Oil. For cases of acne rosacea, follow with our Sandalwood Soothing Lotion. To heal and alleviate persistent rosacea conditions and other chronic skincare imbalances, learn more about our Ayurvedic Consultations.
Pitta skin types with extra sensitivity

Rosacea-prone skin

Very sensitive complexions
Karanj, Raktachandan (Red Sandalwood), Anantmool, Turmeric, Amla, Sandalwood.

Explore our complete ingredient glossary.
Gently massage a small amount on affected areas until completely absorbed. Use twice daily. For best results, apply after our Rosacea Essential Oil.
Want to try it before you buy it?
, add two other products you wish to try for $7, and you'll receive 10% off your next purchase! *While you may purchase as many sample sets as you'd like, the 10% code is delivered only after your first sample purchase.
Pairs well with:
PRATIMA Tips
For cases of acne rosacea, follow with our Sandalwood Soothing Lotion.

To heal and alleviate persistent rosacea conditions and other chronic skincare imbalances, explore Ayurvedic Consultations with Dr. Pratima Raichur.
Care & Shelf Life
Store in a cool, dry place away from sunlight and moisture. Close the bottle tightly after each use. Since this formula contains no artificial preservatives, please use within 5-6 months.
Have a Question?
Contact our Ayurvedic Skincare Experts
Our team is happy to help with product recommendations, application tips, and more.
"The founder of this eponymous line began studying Ayurveda in India at 13. Now, at 83, she's still crafting her "nature-intelligent formulas" herself in her New York City lab."
"If you've done some research on experts in Ayurveda, you've likely come across Dr. Pratima Raichur. The New York-based Ayurvedic physician and naturopath has bottled over 40 years of experience into her line of 100 percent natural products for the skin, hair, and body."
"You can find some divine skin care at PRATIMA, so drop down and get your Dosha on, girl."
Therapeutic Specialty Care
With nature-intelligent formulas derived from healing Ayurvedic herbs and botanicals, PRATIMA specialty care rituals target the source of imbalance for lasting, effective results you can see.
Personalized Ayurvedic Skincare Recommendations for your Dosha
Ayurveda describes the Doshas as natural forces of energy that help us classify our mind-body characteristics, including our skin. Learn more about your Dosha and receive your customized Ayurvedic skincare ritual.
TAKE THE DOSHA QUIZ
Great for sensitive skin
I use the Rosacea Therapy Lotion after applying the Rosacea Face Essential Oil. Reduces redness and calms my skin during the warmer months.
Amazing Product!
I have been a Pratima customer for over 15 years and I will not use anything else on my skin. Over the years I developed Rosacea and after doing a consult with Pratima and using the recommended products my Rosacea cleared up. During periods of flare ups I use this lotion on patchy red spots and within a few days it clears it back up. This is definitely a must product for those of you suffering from Rosacea. Highly recommend!
Soothing and protects
I love the Rosacea Therapy Lotion. Adds an extra protection later under the Neem sunscreen. Helps a lot with Rosacea.
Fantastic!
My skin loves this product. It helps to calm my rosacea so much.
An Essential
Most lotions are either to thick or don't seem to do anything. This one immediately soaks in and softens my skin without clogging pores.
Food for the Skin
Our Ayurvedic formulas are created exclusively with pure, natural, whole-food ingredients that your skin can easily recognize, without harmful synthetics and chemicals.
Handcrafted in small batches wth no artificial preservatives.