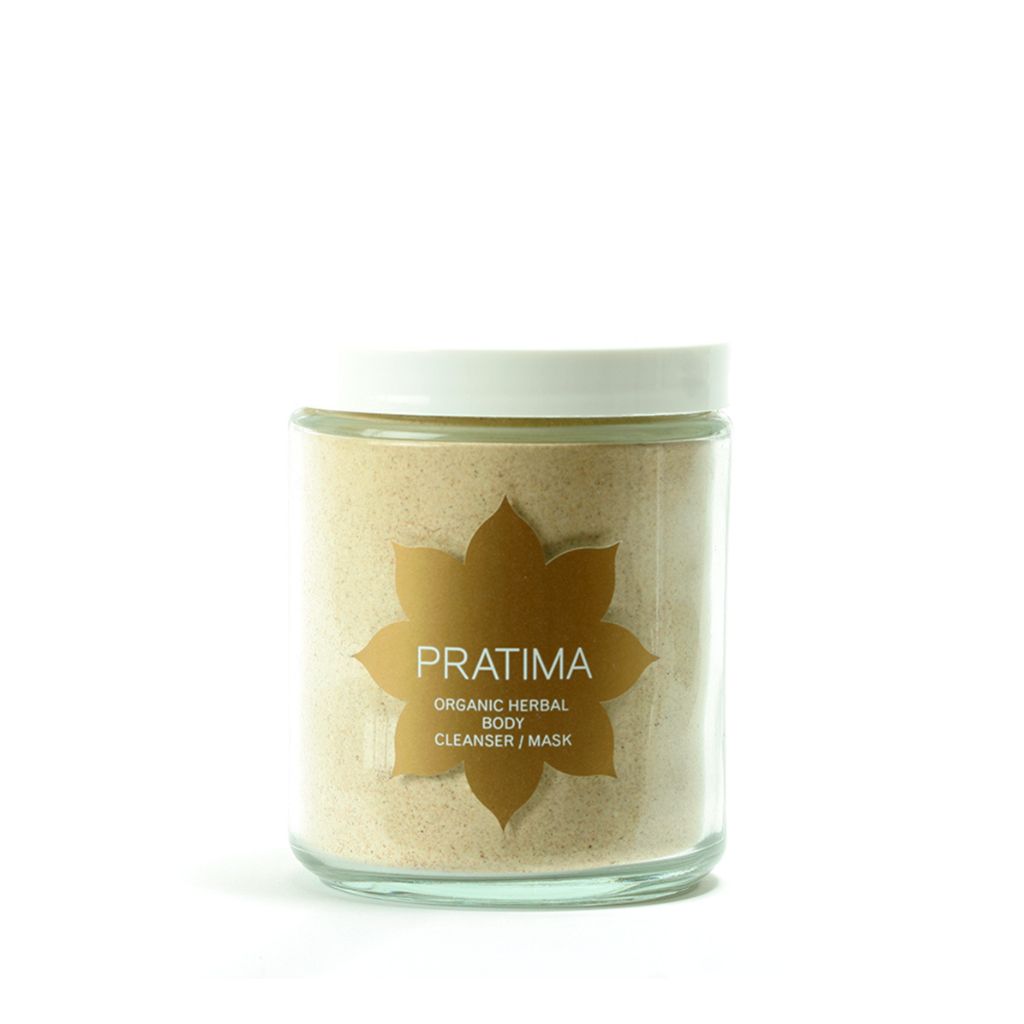 Organic Herbal Body Cleanser/Mask
About
Ideal For
Ingredients
How to Use
This natural body cleanser combines crushed herbs and Ayurvedic skin purifiers, including sandalwood, coriander, and orange peel, to remove surface impurities while exfoliating dead skin cells and leaving skin smooth and soft, and glowing. Formulated to balance moisture levels, this body cleanser retains the skin's natural pH while replenishing cells with essential nutrients. A natural alternative to traditional soap, enjoy this ritual daily. Follow with the Herbal Body Oil of your choice.
To use as a therapeutic body mask, create a thicker paste and apply as desired. Once dried, brush away to reveal firmer, soft baby skin. This treatment is an effective remedy against internal accumulation and cellulite. For best results, follow with our Kali Rai Toning Body Oil.
All skin types

Exfoliation and dead skin removal

Replenishing vital nutrients to the skin
Organic Milk Powder, Sandalwood, Sweet Orange, Coriander, Punarnava, Shankapushpi.

Explore our complete ingredient glossary.
Massage a small amount over wet skin, rinse. Use daily in your shower and follow with your appropriate PRATIMA Dosha Body Oil.

Want to try it before you buy it?
, add two other products you wish to try for $7, and you'll receive 10% off your next purchase! *While you may purchase as many sample sets as you'd like, the 10% code is delivered only after your first sample purchase.
Pairs well with:
Organic Herbal Body Cleanser/Mask
PRATIMA Tips
For a toning and cellulite treatment, mix with warm water to form a paste and massage over entire body. Leave on for 10 min, rinse or briskly rub off with a loofah. Follow with PRATIMA Kali Rai Toning Body Oil.
Care & Shelf Life
The pure powder form of this cleanser preserves the potency of the herbs. Store in a cool, dry place away from sunlight and moisture. Close the bottle tightly after each use. Since this formula contains no artificial preservatives, please use within 5-6 months.
Have a Question?
Contact our Ayurvedic Skincare Experts
Our team is happy to help with product recommendations, application tips, and more.
"If you've done some research on experts in Ayurveda, you've likely come across Dr. Pratima Raichur. The New York-based Ayurvedic physician and naturopath has bottled over 40 years of experience into her line of 100 percent natural products for the skin, hair, and body."
"A friend and client turned me on to PRATIMA and I am obsessed with her skin-care products."
"PRATIMA products are organic and chemical-free, and have ingredients like sandalwood, lentils, coriander, and orange peel. Everything is gentle, and smells simultaneously earthy and delicious."
Naturally Pure Herbal Cleansers
PRATIMA all-natural cleansers are made with 100% pure Ayurvedic herbs, including crushed roots and flower extracts that remove deep-seated dirt and toxins, promote healthy exfoliation, deliver protein-rich botanicals and visibly rejuvenate and refresh complexions without altering the skin's natural pH level.
Personalized Ayurvedic Skincare Recommendations for your Dosha
Ayurveda describes the Doshas as natural forces of energy that help us classify our mind-body characteristics, including our skin. Learn more about your Dosha and receive your customized Ayurvedic skincare ritual.
TAKE THE DOSHA QUIZ
soft exfoliation that smells amazing
I love this cleaner to exfoliate my body once a week. It smells so good and leaves my skin soft and very happy. I appreciate how fine the powder is.
A wonderful body cleanser
I like the natural composition of this body product. Very soft and pleasant, the body is smooth after use
Food for the Skin
Our Ayurvedic formulas are created exclusively with pure, natural, whole-food ingredients that your skin can easily recognize, without harmful synthetics and chemicals.
Handcrafted in small batches wth no artificial preservatives.